157 Ac SW Stutsman Farm Land For Sale
Streeter Township, Streeter, Stutsman County, North Dakota
Here's a Quarter of Land you're not going to want to miss! Located 4 mi West of Hwy 30 & Streeter, 156.77 +/- Acres with the perfect balance of 118 Ac Productive Cropland w/51.4 PI, and balance in Nesting Wetlands & Hay Ground. Ideal Investment Land for Upland Game & Waterfowl in the Migration Flyway and Prairie Pothole Region just 2 mi S of the Gentral Grassland Reserve Center and E of Alkaline Lake. Good Renter for 2023 Season, Ready to Farm thereafter or continue to Rent. Seller Asking $398,000 or $2,535/ac avg. (There is another 157 Ac of Land For Sale just 5 mi from this Property. See Map)
*********************************
Legal Description: SE1/4 of Section 18, Township 137 North Range 69 West, as described on abstract with Seller reserving all Oil & Gas minerals currently owned, if any.
Location: From Interstate 94 at Exit 221 (40 mi E of Jamestown, ND) travel South on Hwy. 30 to Streeter, ND, Turn West and travel West on County Road 37 aka 52nd St. SE for 3 mi to 50th Ave SE. Turn North and travel 1 mi to 51st. St SE and one more mile East to the SE corner of the property. The driveway access in on the NW corner of the property. (See Map)
Acreage Breakdown:
118.21 Ac Tilled Cropland. 37.33 Ac Wetland, Hayland & Other. 1.23 Ac Trees & Driveway in NW Corner.
Easements: There are NO USFW Wetland or Grassland Easements on this property.
Annual Income: 118 Acres Cropland earning $8,024 for 2023. Owner may negotiate new Lease or Ready to Farm for 2024 Season. Crop History is Spring Wheat grown in 2022 & 2021, Corn grown in 2020, and Alfalfa in 2019. Call for Bases & Yields. Hunting Rights are not part of the rent.
Real Estate Taxes: Most recent Real Estate Taxes available are $951.15/year or avg. $6.07/ac which includes 5% discount for payment by February 15th.
Note: Streeter, North Dakota is known for its tremendous Upland Game, Waterfowl & Fishing. Streeter is a city in Stutsman County in Central North Dakota with a population of 153 friendly residents at the 2021 census. Founded in 1905, Streeter celebrated its centennial July 2005 with a weekend festival. The city is at one end of what is considered the straightest road in America, with the other end being in Hickson. Elevation of 1,923 feet and it consists of 225 acres.
*** Due to the exceptional amount of snow we have experienced this year, the land is completely covered. Therefore we must rely on maps and aerial photos. Drone Video and Ground Photos will be taken if property is still available when the season changes.
Seller Asking $398,000 or $2,535/ac avg. SALE PENDING!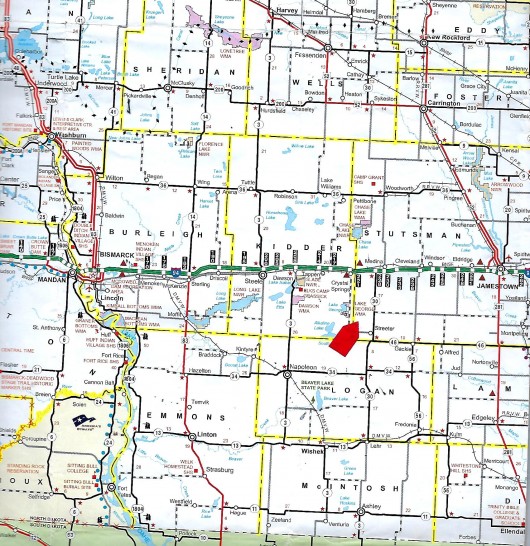 Plat Map; Each Square is 1 Mile Long. Red Lines are Roads.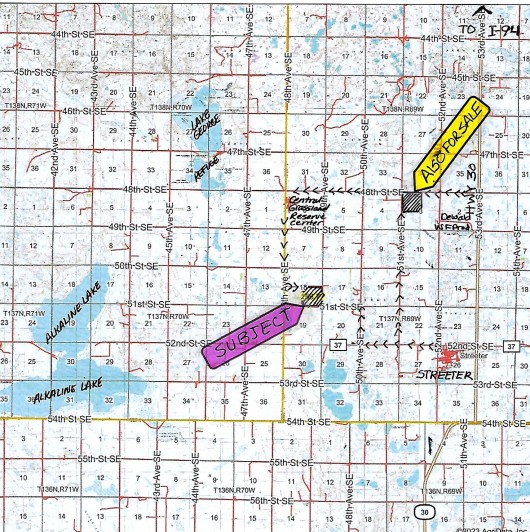 Plat Road Map. Each square in 1 mile.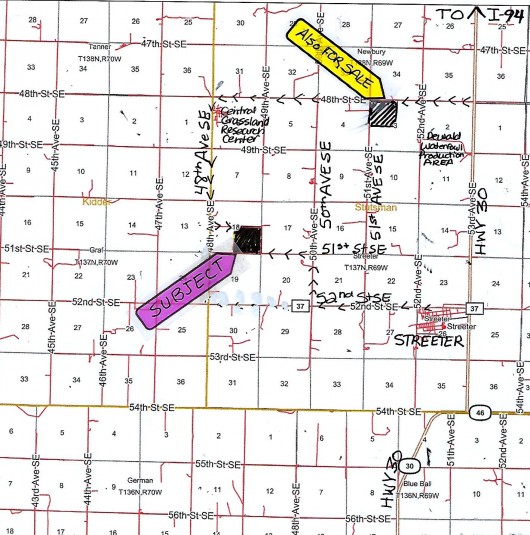 Atlas Survey Plat Map of Streeter Township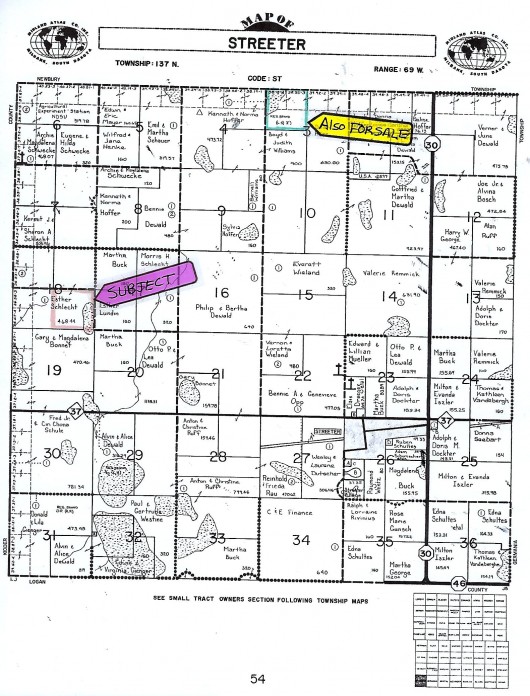 Aerial Map of Subject Land outlined in Yellow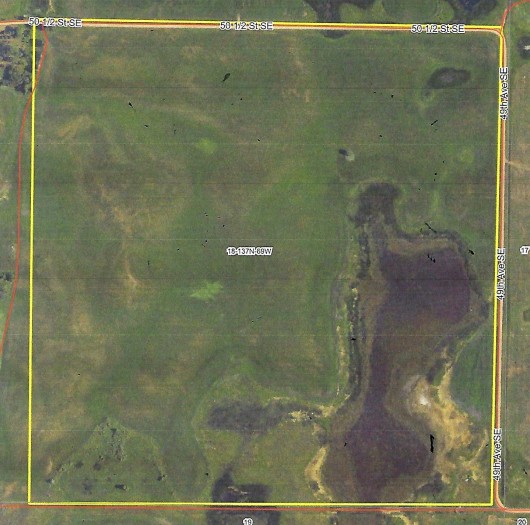 Aerial Map of Section 18 with Subject outlined in yellow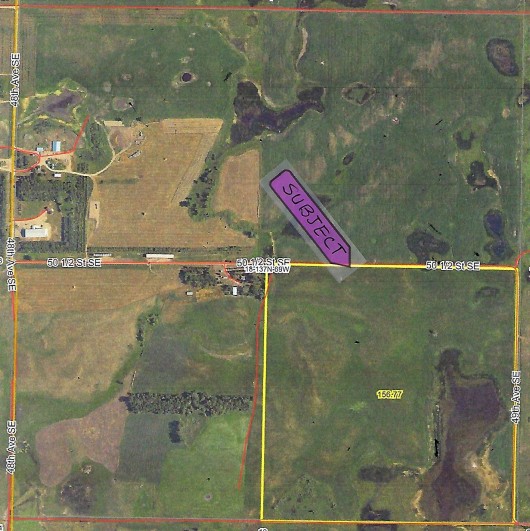 FSA Aerial Map of Section 18 w/Subject outlined in Orange/Red

Aerial Map w/Subject outlined in yellow, showing surrounding area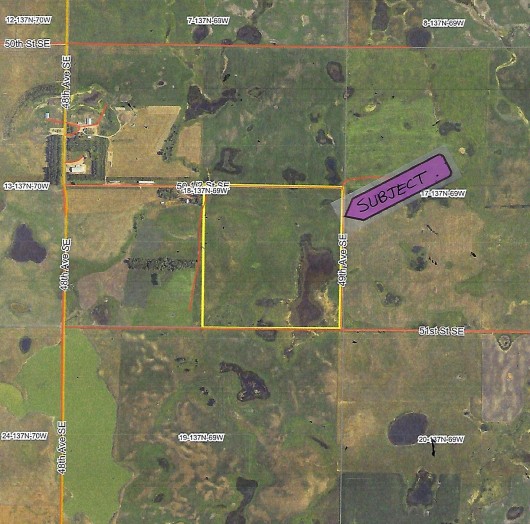 Aerial Map of Subject with Cropland outilined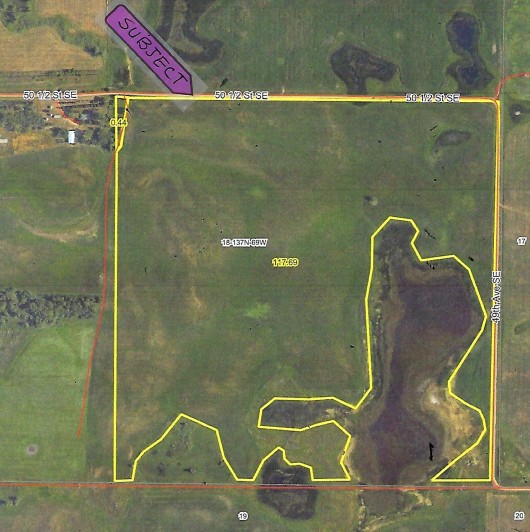 Soil Map of Cropland & Legend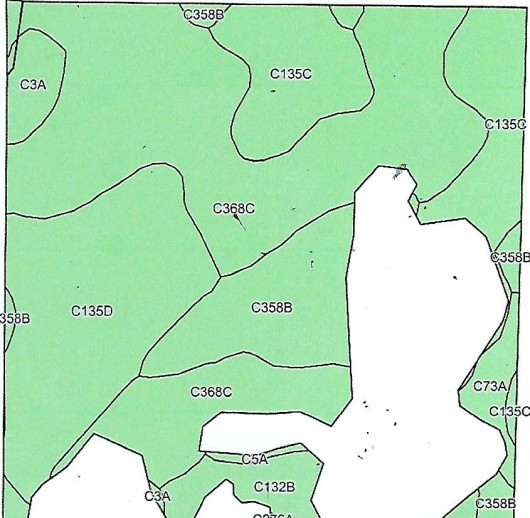 Soil Map of Full Subject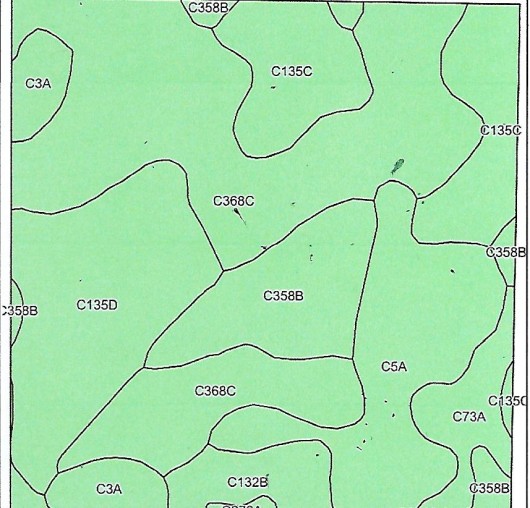 Topography Map of Subject outlined in black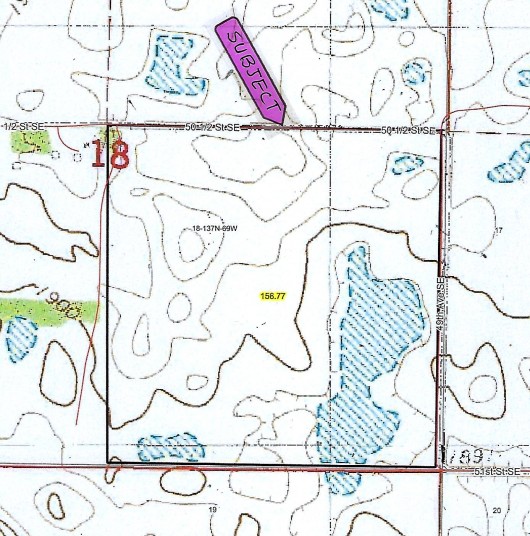 Topography Map of Subject outlined in black showing outlying areas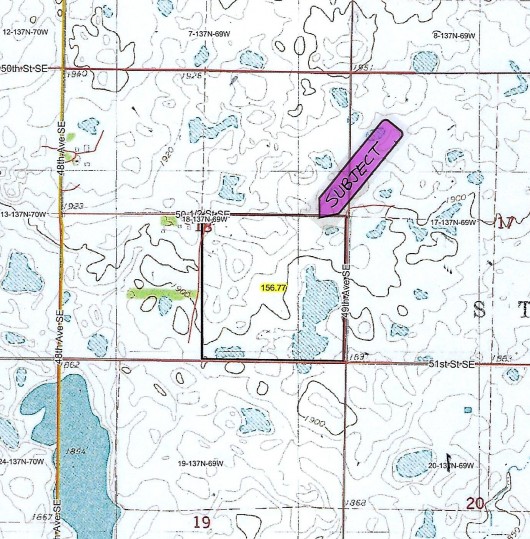 Hilshade Map of Subject with Legend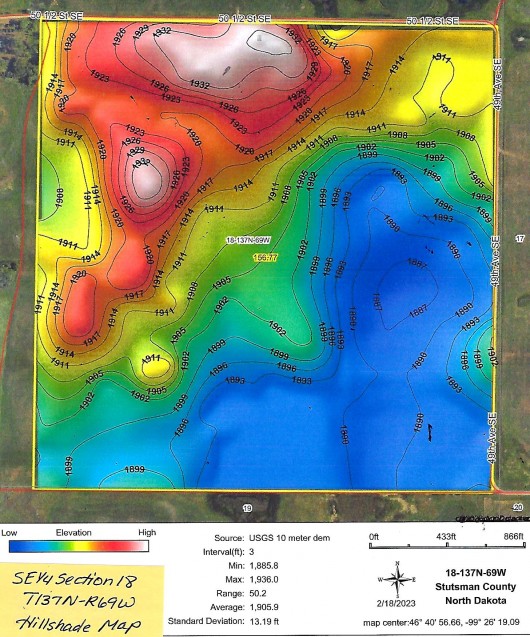 If you are interested in this property, please contact Prairie Rose Realty Inc. at landbroker@bektel.com or call 701-475-2784 or toll free 800-728-7558.
Prairie Rose Realty Inc. is representing the Sellers in this transaction. All information has been gathered from sources considered reliable, however cannot be guaranteed by Prairie Rose Realty Inc.