158.43 Ac Grand Forks Farm Land For Sale
Turtle River Twp., Manvel, Grand Forks County, North Dakota
158.43 Acres of prime Crop Land now available with 143 tillable acres in Class II Bearden-Perella and Wahpeton Silty Clays boasting an overall average Productivity Index of 82.5 (PI). Excellent access with mature Trees and winding Creek in NW corner offering some recreation. Asking $450,000 or average $2,840/ac
*********************************
Legal Description: SE1/4 SE1/4 and W1/2 SE1/4 Section 23, Township 154 North, Range 51 West, Grand Forks County, North Dakota as described on abstract including all minerals currently owned, if any.
Acreage Breakdown:
143 Acres Cropland
15.40 Acres Trees, Creek and Other
Easements: There are NO USFW Wetland or Grassland Easements on this land.
Real Estate Taxes: 2017 Real Estate Taxes were $512.42/year including the 5% discount for payment by February 15th
Seller Asking $450,000 or average $2,840/ac
Aerial Map with Subject Property in Yellow showing Larger Area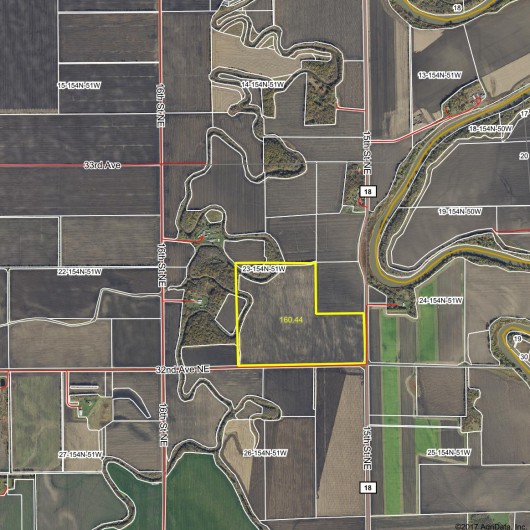 Aerial Map of Subject Land Outlined in Yellow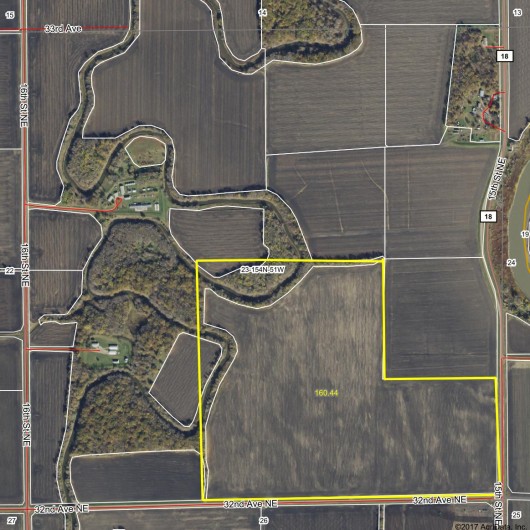 If you are interested in this property, please contact Prairie Rose Realty Inc. at landbroker@bektel.com or call 701-475-2784 or toll free 800-728-7558.
Prairie Rose Realty Inc. is representing the Sellers in this transaction. All information has been gathered from sources considered reliable, however cannot be guaranteed by Prairie Rose Realty Inc.