160 Ac Carrington CRP Farm Land For Sale
Wyard Township, Carrington, Foster County, North Dakota
Located just a couple miles SW of Carrington, ND this 160 Ac +/- Parcel of Land has 61.34 Acres Class II Soils of 71 PI and overall 56.7 PI (Productivity Index). There are 39.7 Ac enrolled in CRP thru September of 2022 earning $1,547/year and balance of approx.100 Ac is planted to Grass used as Hayland, and may be broken up and Farmed this Spring or good Renter is available. Seller's Asking $234,000 or $1,462/ac avg.
*********************************
Legal Description: SE1/4 Section 27, Township 146 North, Range 67 West, Foster County as described on abstract with Sellers reserving all Oil & Gas minerals currently owned, if any.
Location: From the Junction of Hwy. 281 and 200, travel West 1 mi to the West side of Carrington on 19th Ave NE. Turn South and travel 1 mi to 2nd St. NE. Turn West and travel 2 miles, then 1/2 mi South to the NE corner of the Subject Land. (See Map) or from the SW corner of Carrington, travel 2 miles West and 1/2 mile South.
Acreage Breakdown:
39.7 Acres of Crop Land enrolled in Conservation Reserve Program (CRP) thru Sept. 2022. Approximately 20 Acres of Wetland and 100 Acres of Tillable Land currently planted to Grass and Hayed at $30/ac. This Land has a PLOTS (Private Land Open To Sportsmen) program on it until next Fall when the CRP expires that allows hunters to walk on the land to hunt.
Easements: There are NO USFW Wetland or Grassland Easements on this Land.
Annual Income: 39.7 Acres of CRP thru Septemer 2022 earning an annual $1,547.
Real Estate Taxes: Most Recent Real Estate Taxes available are $284.45/year or an annual $1.78/per acre which includes a 5% discount for payment by February 15th. There are NO Special Assessments.
Note: Please check back for Photos and Drone Video of this Property when weather permits this week. Thank you.
Seller's Asking $234,000 or $1,462/ac avg. SALE PENDING!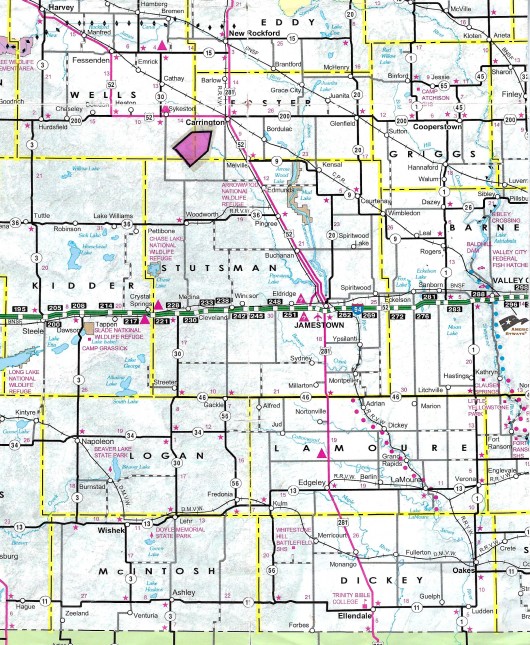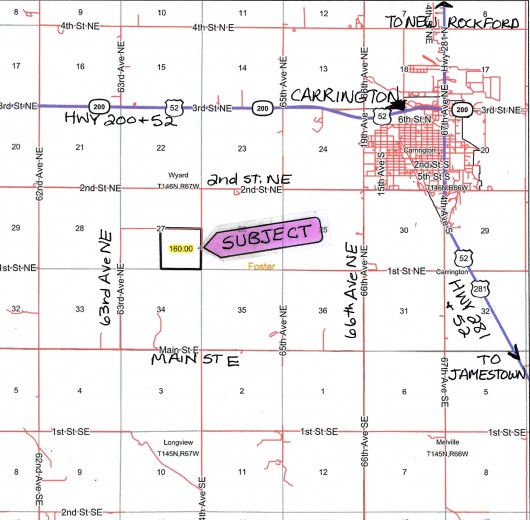 Aerial Map of Subject Land Outlined in Yellow.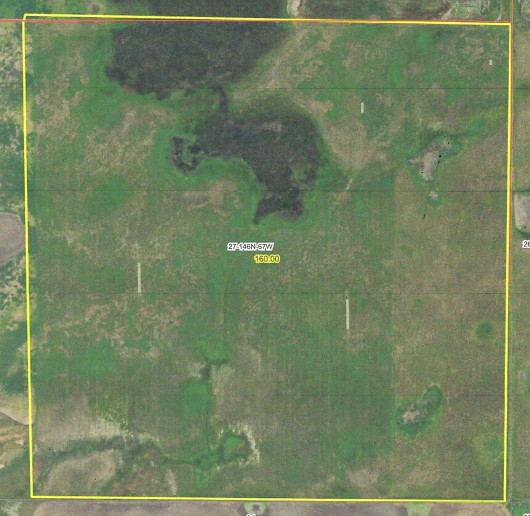 Aerial Map of Subject Land Outlined showing Fields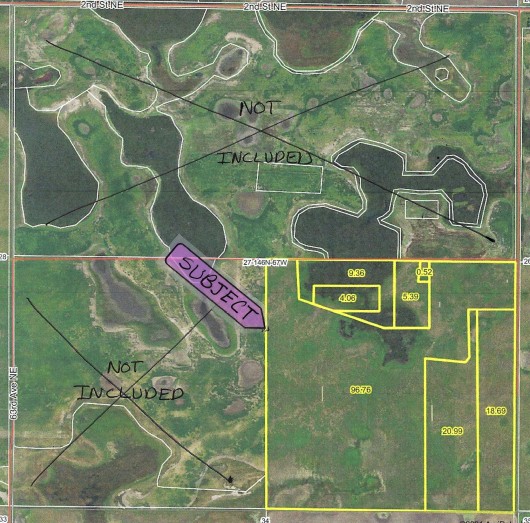 Aerial Map of Subject Land Outlined in Yellow with surrounding Land.

Soil Map & Legend for Subject Land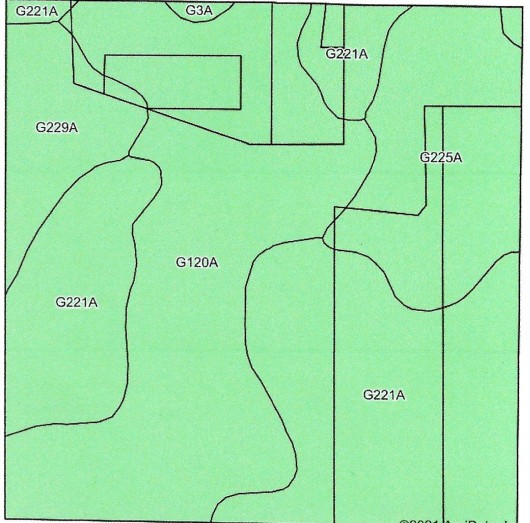 Topography Map of Subject Land Outlined in Black and surrounding area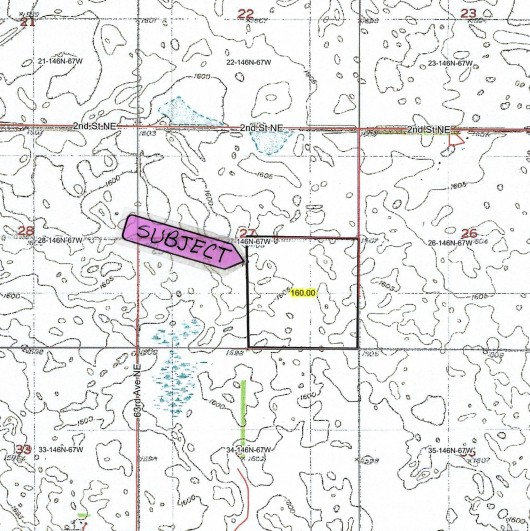 Hillshade Topography Map of Subject Land with Legend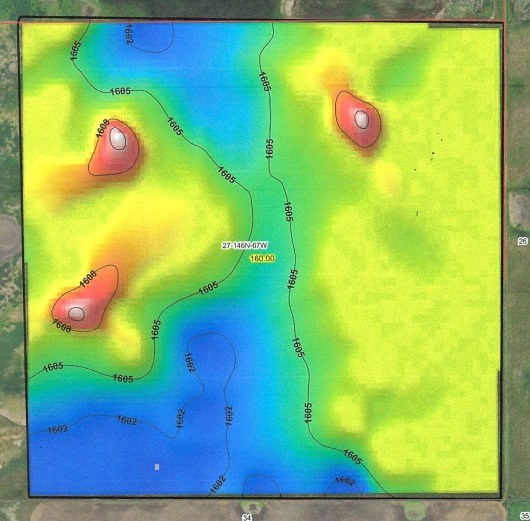 If you are interested in this property, please contact Prairie Rose Realty Inc. at landbroker@bektel.com or call 701-475-2784 or toll free 800-728-7558.
Prairie Rose Realty Inc. is representing the Sellers in this transaction. All information has been gathered from sources considered reliable, however cannot be guaranteed by Prairie Rose Realty Inc.