160 Ac Steele Cropland For Sale
Manning Township, Kidder County, Steele, North Dakota
Located S of Steele, ND in a highly productive area with good access on a half section gravel road, this nice flat 160 Acre parcel is ready to farm next spring. 153.31 Tillable Acres with 129.68 acres at 67 Productivity Index (PI) of Class III Soils with a 0-3 percent slope and an overall average of 64.5 PI. Excellent Upland Game, Furbearers and Deer Hunting and Waterfowl nearby as a Bonus! Sellers Asking $320,000 or $2,000 ac avg.
*********************************
Legal Description: NW1/4 Section 19, Township 137 North, Range 73 West as described on abstract including all minerals currently owned.
Location: From Bismarck, ND travel 40 miles E on I-94 to Steele at Exit 200, or from Jamestown, ND travel 60 miles W on I-94 to Steele at Exit 200. Turn S and travel 1 mi thru Steele to dead end at the Kidder County School. Turn E and travel 1/2 mi to paved road on East side of Steele that runs South. Travel S for 13 mi (paved road eventually turns into gravel) to 52nd St. SE. Turn W and travel 1 mi to 25th Ave SE (T in road) then turn N and travel 1/2 mi, then W 1/2 mi on good gravel road to SE corner of Subject Land. (See Map)
Acreage Breakdown:
153.31 Ac Cropland
1.27 Ac and Balance in Wetland & Other
During Wet years there are an additional 8.09 Ac that get wet due to flat topography. See those areas circled on second Aerial Map.
Easements: There are NO USFW Grassland Easements on this Land, however there IS a USFW Wetland Easement that does not interferre with agriculture but restricts the burning, leveling, draining or filling of Wetlands without permission from US Fish and Wildlife. This is a perpetual easement and sale is subject to new Owner honoring the Wetland Easment. .
Annual Income: There are NO Leases on this Land.
Real Estate Taxes: Most recent 2018 Real Estate Taxes to come. Please check back.
Seller's Asking $320,000 or avg $2,000/acre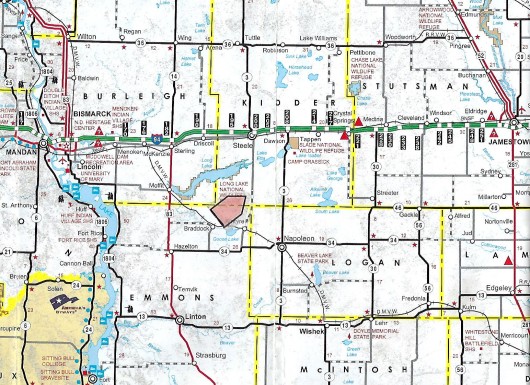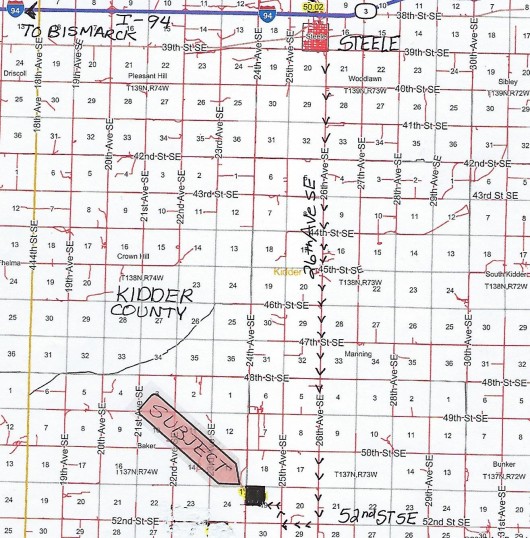 Each square equals 1 mile. All red lines are roads or trails.
Aerial Map of Subject Land Outlined in Yellow showing Surrounding Area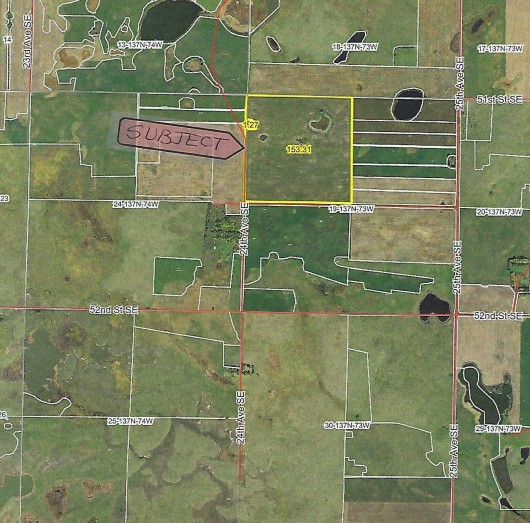 Aerial Map of Section 19 with Subject Land Outlined in Yellow

Aerial Map of Subject Land with periodic Wet Areas Outlined in Yellow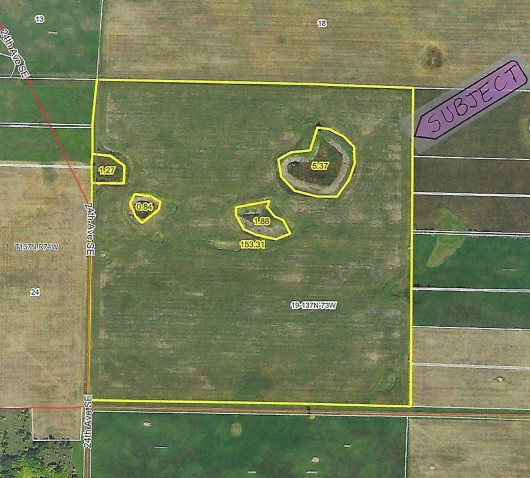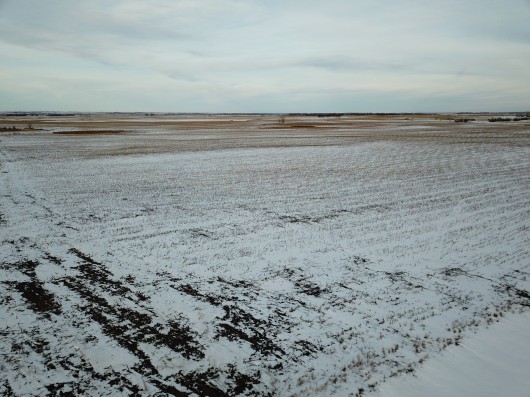 Drone view from Southwest corner looking Northeast across Subject Land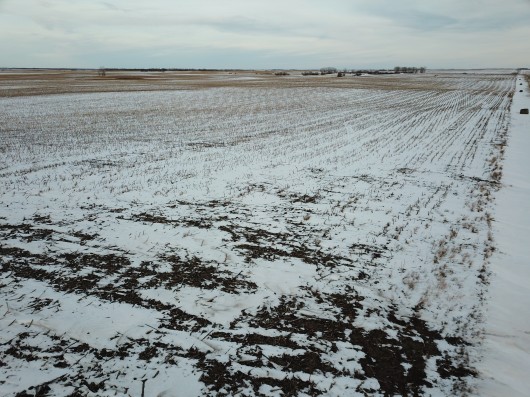 Drone view of Southwest corner looking East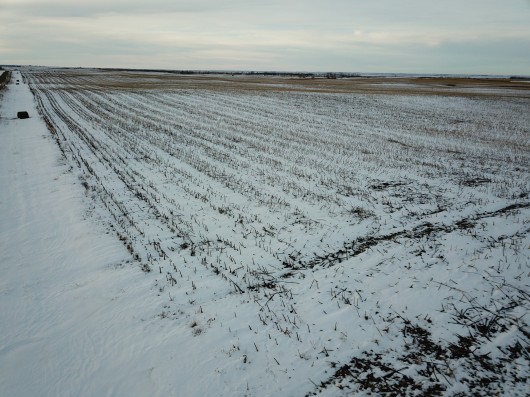 Drone view from Southeast corner looking Northwest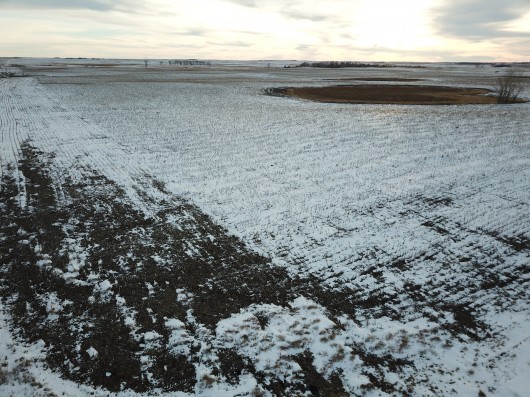 Drone view from Northeast corner looking Southwest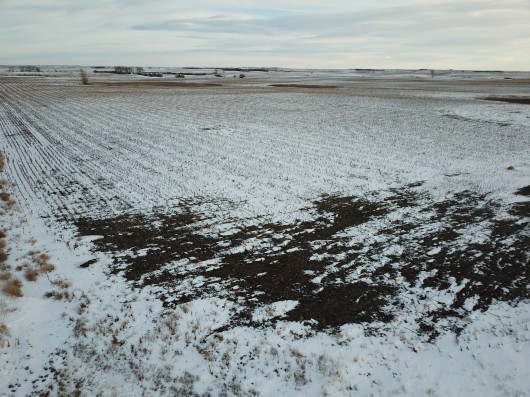 Drone view from Northwest corner looking Southeast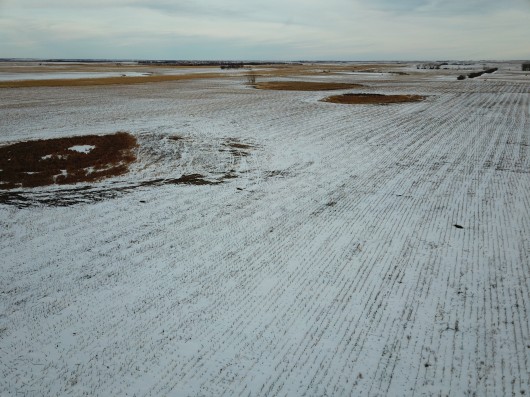 Drone view from the West looking East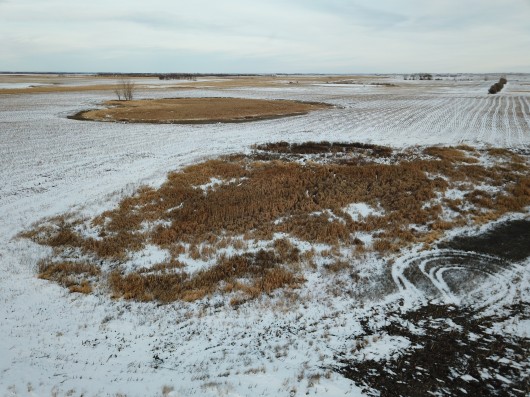 Drone view of the Low Areas in the Field (See Aerial Map)
Soil Map and Legend of Subject Land Overall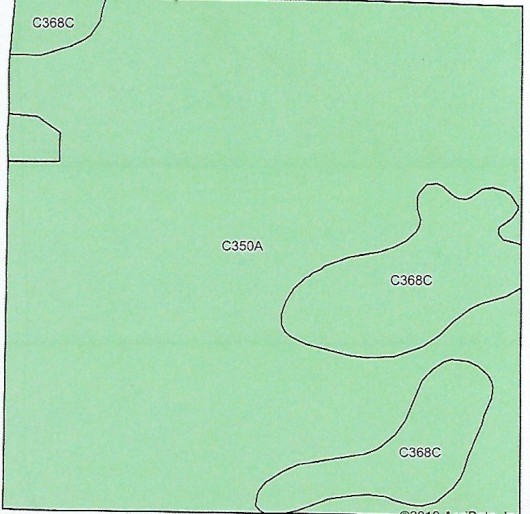 Topography Map of Subject Land Outlined in Black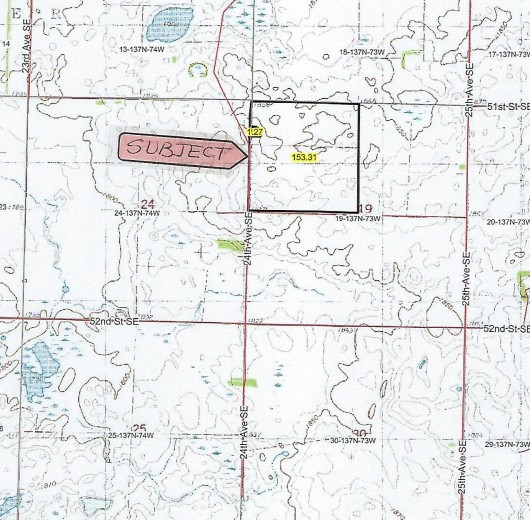 If you are interested in this property, please contact Prairie Rose Realty Inc. at landbroker@bektel.com or call 701-475-2784 or toll free 800-728-7558.
Prairie Rose Realty Inc. is representing the Sellers in this transaction. All information has been gathered from sources considered reliable, however cannot be guaranteed by Prairie Rose Realty Inc.