170 Ac Sykeston, North Dakota Ranch For Sale
614 Hwy. 30, Sykeston, Wells County, North Dakota
All-in-One package, Country Living at its best - this Ranch aka Hobby Farm is just perfect! Located along Highway 30 just 3 mi N of Hwy. 200 by Sykeston, West of Carrington, ND and has just about everything you could want in a small livestock facility. There is a nice partially furnished Two Story Home w/5 Bedrooms, 2016 42'X72' Machine Shop w/14' Walls, Pole Building, Quonset, Garage, Corrals and add'l Outbuildings w/New Metal Roofs on 170 +/- Acres of predominantly Class II Soils. There is a newly Fenced Pasture with a good Well & a beautiful Creek that runs east/west thru Pasture along with 20 Acres of Farmland w/55 Avg PI on Cropland. This Farm includes the 5.11 Ac of Trees and Grass on the South side of the road. A collection of small Farm & Hay Equipment is also available to purchase from Seller. (See Farm Equipment List available.) Seller Asking $426,000
*********************************
Legal Description: N 176' Lot 4 Ex Hwy consisting of 5.11 Ac in Section 1, Township 146 North, Range 69 West, S1/2 SE1/4, S1/2 SW1/4 Ex Hwy & Ex Tract 1 Consisting of 146.67 Acres and Tract 2 in N1/2 SE1/4, all in Section 36, Township 147 North, Range 69 West consisting of 19.23 Acres, Wells County as described on Abstract.
Location: From Carrington, ND travel West on Hwy. 200 aka Hwy. 52 as far as Sykeston, ND. Turn North on Hwy. 30 and travel 3 miles to 6th Street NE and the West side of Subject Property. (See Map) Trees and Grass/Hay on 5.11 Acres on the South side of the Road is also included.
Acreage Breakdown:
20 +/- Acres of Buildings. 20 +/- Acres of Cropland. 5 +/- Acres of Hayland. 125 +/- Acres of Pasture.
Easements: There is a Natural Drainage Easement from the Cropland on the north side of the Pasture that drains into the Creek which helps to keep good levels of creek water.
Annual Income: The Pasture is leased on a Verbal Agreement for this year only. The Renter is interested in continuing to Lease under a new Agreement with the new Owner. He is currently paying $2,100/year. This Renter reserves his Galvanized & Rubber Tanks in the Pasture, the Freestanding Panels in the Cattle Barn used for sorting, and the Hose and Heater for the Waterer, currently not hooked up. The Cropland is leased on a Written Contract thru next year (2023). This Renter is interested in continuing to Lease under a new Agreement with the new Owner too. He is currently paying $1,900/year for the 20 +/- Acres. He also farms the land to the north of the Pasture.
Real Estate Taxes: Most recent Real Estate Taxes available are $488.52/year which includes a 5% discount for payment by February 15th. There are NO Special Assessments.
Note: FOR A VIDEO OF THIS PROPERTY, CLICK HERE. This Property has a Carrying Capacity of 50 Pairs with its Turn-Key Option. The House was built in 1910 with a total of 2,500 sq. ft., and was completely updated in '04. The main floor entrance has a mud room with a sink and to the right, a spacious laundry/bathroom w/shower, that includes dryer, garden sink and a sudsaver. The back service stairs for second entrance to the top level is straight ahead, right next to the stairs leading to the basement. The kitchen is to the immediate left. The country kitchen has a faux brick decor with lots of cabinets and eat-in dining area. The Amana smooth top range is included, along with the refrigerator. A second full bath w/tub is just off the kitchen, along with the master bedroom that has a second door leading to the family room. The living room and/or formal dining room have a graceful archway dividing them from the family room and light colored carpeting. There are custom blinds in both rooms, and arcadia doors in the formal living/dining area leading to a south-facing concrete patio. The main stairway to the second level is also in the living/dining area. The second level has a large landing and four bedrooms, two being very large. All of them have ceilings slanting to the pitch of the roof line. The largest bedroom has double walk-in closets on each side of the door leading to the back service stairs. This room has peeling paint on the ceiling from being closed up as storage. Seller says it may not have gotten enough heat in the winter. The home has a water softner and purifier, updated breaker box, thermal pane windows on the main level and new windows on the upper level. The steel siding was installed in '77 with new paint on the trim and soffits in '03. The shingles are interlocking asphalt, installed in '93. The house is heated with a new forced air furnace and cooled with central air condititioning. There are 2 sump pumps in the basement and the water to the house is ND Rural Water Membership. The well on the property is a 2-1/2" submersible pump about 20' deep that easily carries the 50 head and is on the same aquifer as the creek. New pump was installed for pasture well in '03 with a Rural Water option. Partial new Septic Lines were also done in '03. There is an old garden shed.Improvements Include: 40'X80' Pole Barn. 44'X28' Machine Quonset w/dirt floor. 42'X72' Machine Shed w/14' walls & dirt floor. 24'X32' Garage w/opener & concrete floor. 32'X32' Cattle Shed. 7 Steel Bins; 1-5,000 bu, 1 - 3,000 bu, 2 - 2,200 bu, 2 - 2,000 bu, 1 - 1,500 bu, 1 Wooden 3,000 bu. Heated Waterer in Working Corral with Windbreak Fences. Top Hot Wire on new Pasture Fences. Also included are 6" Insulators for Electric Wire Fence & 2 new Spools of Wire, Green Treat Lumber in Garage - 2X8'x & 2X6's for Windbreak. There are 6 new Spools of Barbed Wire, Steel Posts, Brace Posts and 4X8 Wood Posts that will be included with Sale at no extra cost. Tool Boxes and Personal Property is Reserved. The Renter reserves his property of the newer of two galvanized water tank, rubber tank, hose with float, and free standing panels in barn used for sorting his cattle.
Equipment Available for $25,000:
John Deere 2510 Gas Tractor w/syncho shift. 1850 John Deere B Tractor. 2 Rotary Cutters - 6' 3 Point and 5' Drawbar Pull Type King Cutter. Round Baler - Agco 39"X50" Wide Bales. Ford 2M Tractor w/Sherman Transmission. John Deere 1207 Haybind 7ft.. Widefront After Marcet on 2 Cycle John Deere. Manure Spreader, 25 bu 2 Wheel Power w/End Gate. New Holland 68 Square Baler. John Deere 8' KBA Disc w/low hours. John Deere 37 Trailer Hay Mover 7'. Pull Type Sprayer, Ace Pump 26 or 27' wide w/400 Gallon Tank. Hay Rack 10 Ton Running Gear 8'X14' Flat Rack. 4' Wide Roller Lawn. Complete set Weight Set for 2510 Heavy Dbl. Wt. 37 Mower Cycle Bars Cycles 2 or 3 new ones for John Deere Cycle Mower for 37' Trailer Mover. Wire Winding Spool for Fencing Wire. 3 Plows - Took Shears off to replace. John Deere 3 point 4-14's. Case all new parts and new tires. 4-16's Pull Hydralic. McCormick 2 Bottom Pull Plower w/Trip Plow. Farmhand Side Wheel Rack, holes to move or angle. New Baler Twine and new Round Bale Twine will go with equipment.
Motorcycle For Sale $7,000:
Harley Davidson Dina Wide Glide 1997 Motorcycle. About 3,000 miles on it. Motorcycle has Luggage Bag, Engine Guards, Plexiglass Windshield, Saddlebags still in the package, never used. This transaction will be directly with the Seller, no part of the Farm Sale.
Seller Asking $426,000 for the Home & Buildings on 171 Acres and $25,000 for all of the Equipment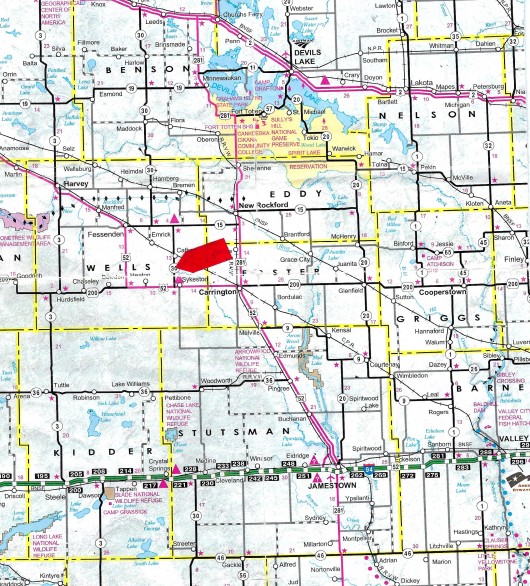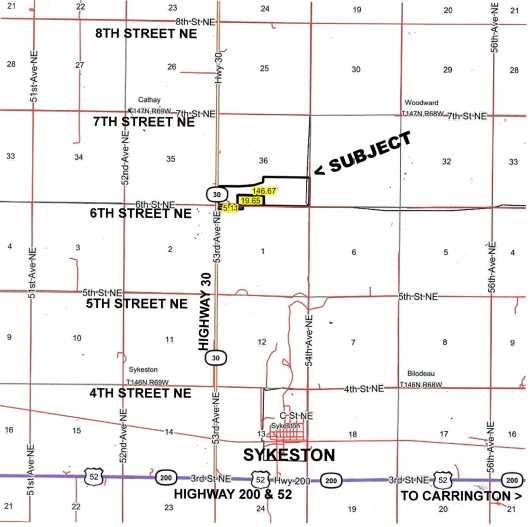 Aerial Map of Subject Land Outlined in Yellow.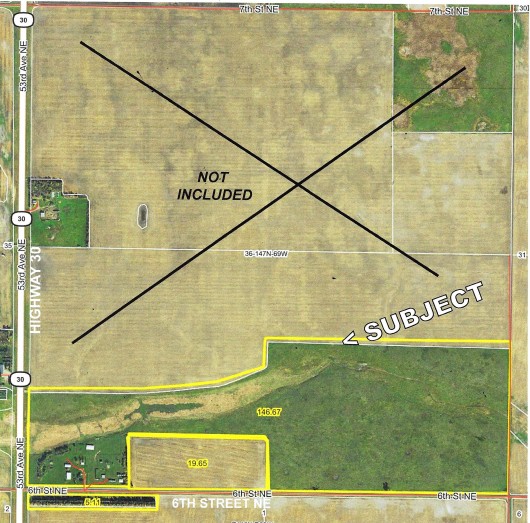 Aerial Map of Subject Land Outlined in Yellow with surrounding Land.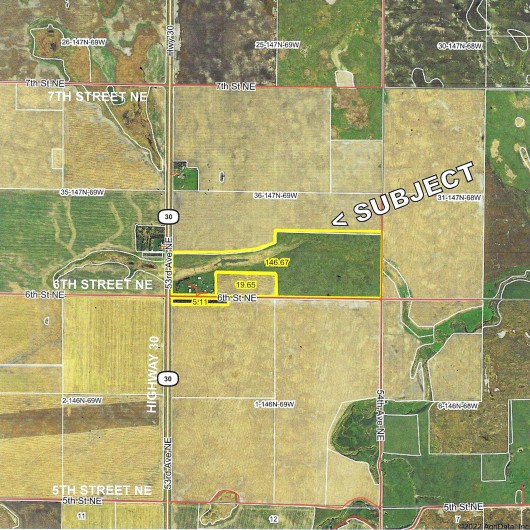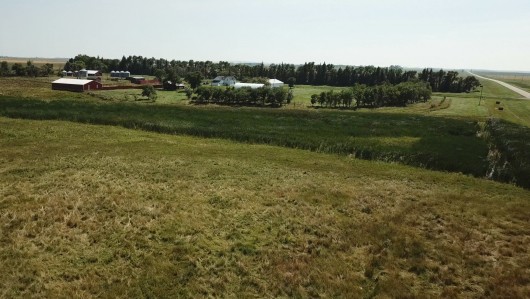 Drone view of Farmstead including Trees on S Side of Road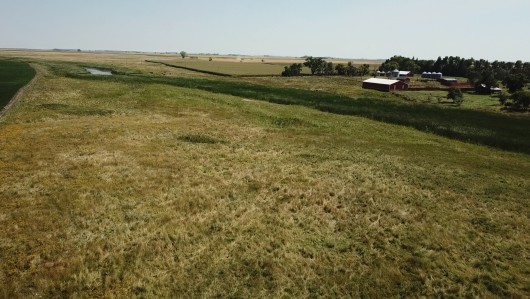 Drone view of Pasture and Creek on West side of Property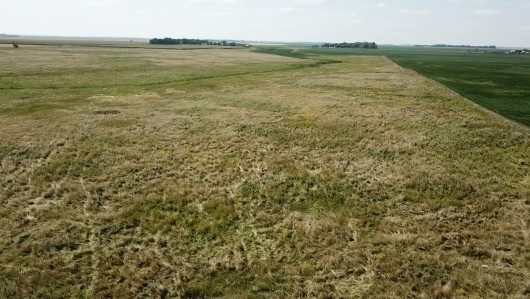 Drone view of Pasture from East to West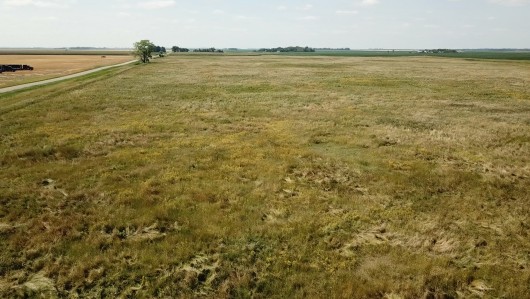 Drone view of Pasture from SE to West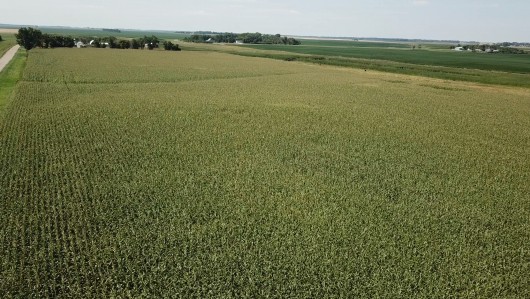 Drone view of Cropland from East to West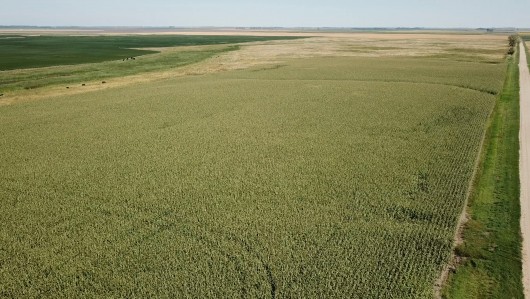 Drone view of Cropland from West to East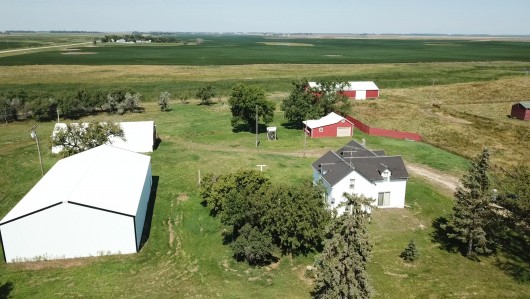 Aerial view of Buildings from South looking North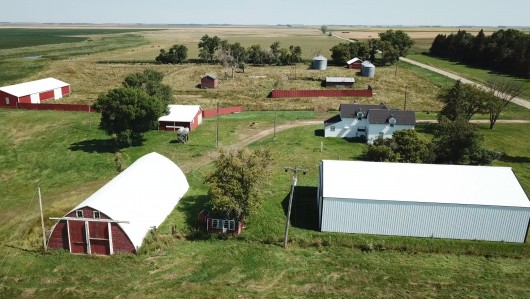 Aerial view of Buildings from West looking East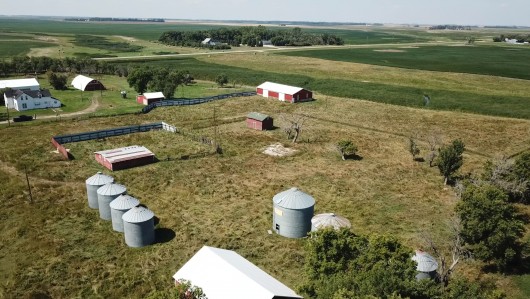 Drone view of Buildings from SE looking NW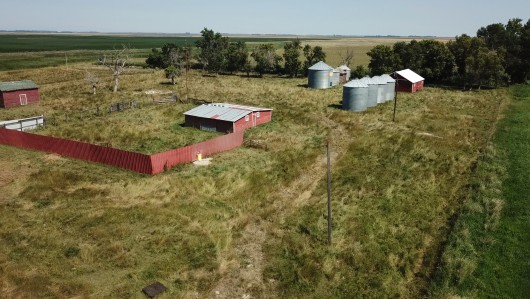 Aerial Drone view of Grain Bins & Corrals from SW looking East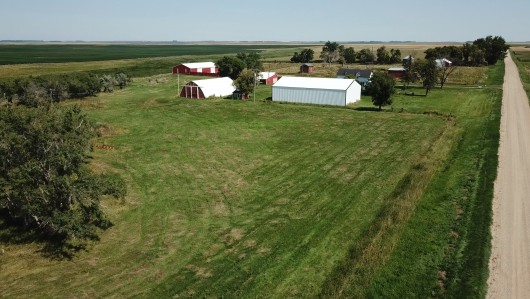 Drone view of SW corner of Subject looking East/NE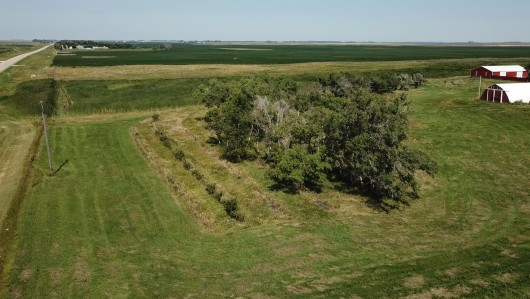 Drone view of West side of Yard looking N by Hwy. across Pasture & Creek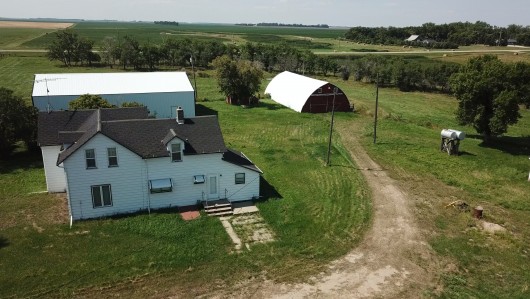 Drone view of the Home, Machine Shop and Quonset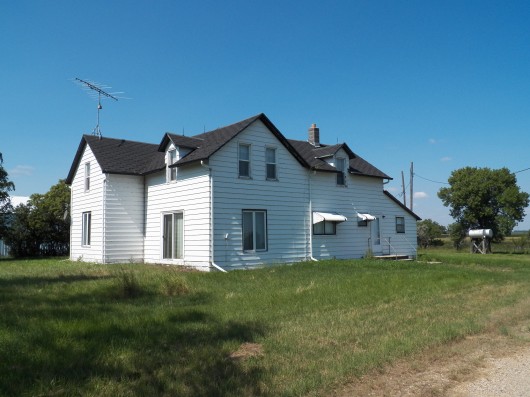 View of Home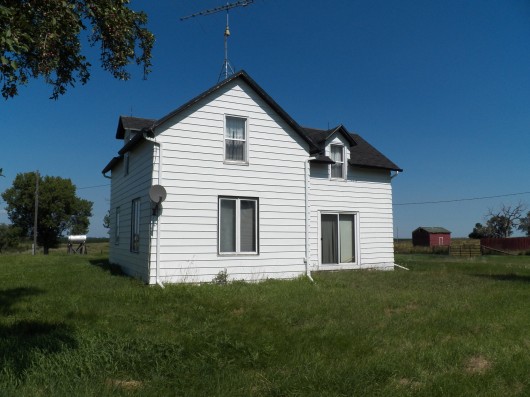 Second view of Home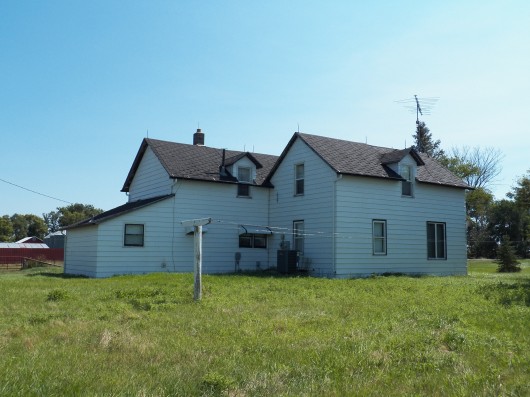 Another view of Home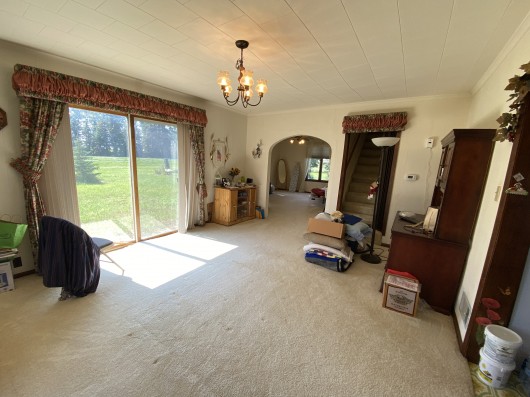 Formal Living/Dining Room, Arcadia Doors to Patio, archway to Family Room and Upstairs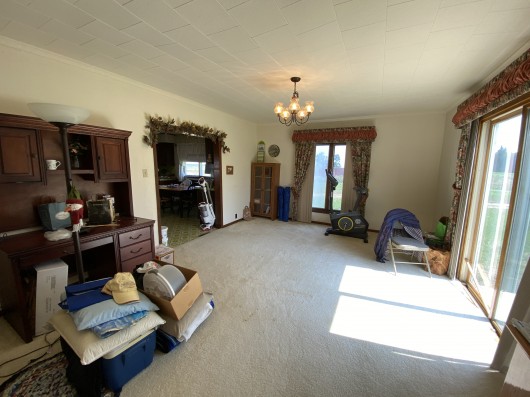 Formal Living/Dining Room to Kitchen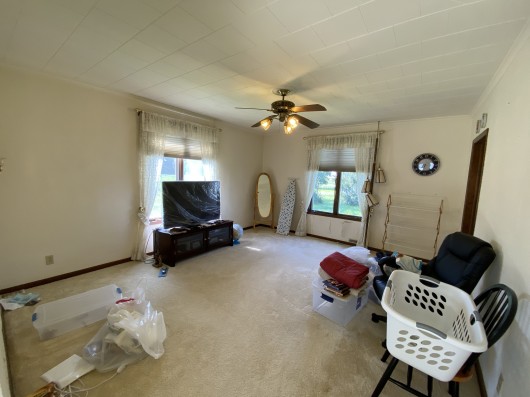 Family Room on Main Level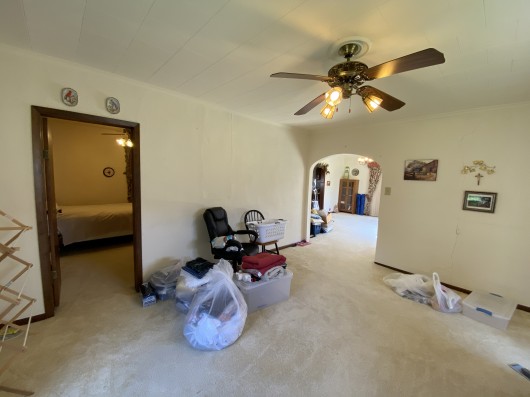 Second view of Family Room to Master Bedroom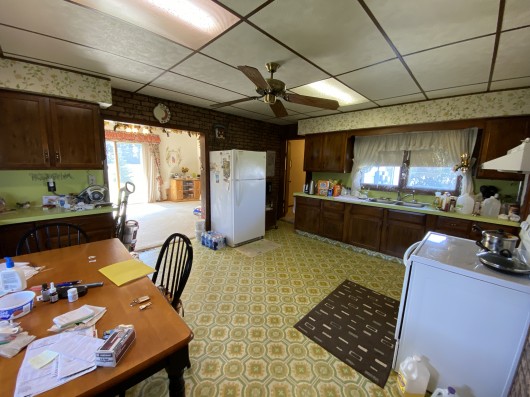 Formal Living/Dining Room to Kitchen

Second view of Kitchen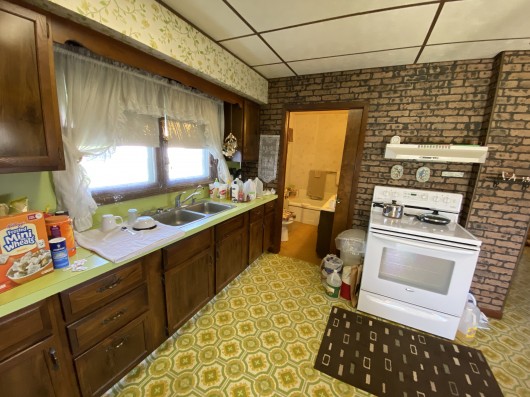 Kitchen to Bathroom w/Tub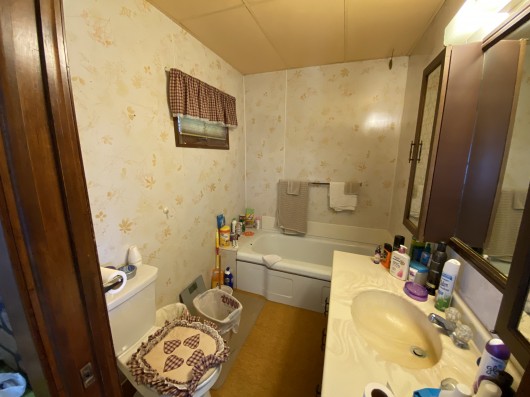 View of Bath off Kitchen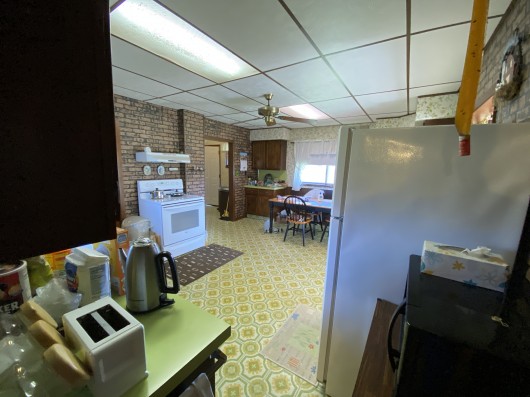 Kitchen from Bedroom. Entry in far center.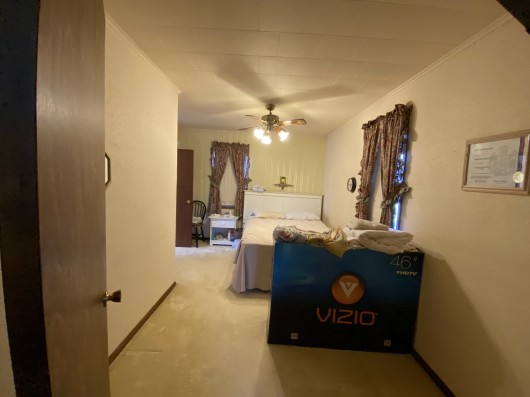 Master Bedroom from Kitchen; 2 entrances from Kitchen & Family Room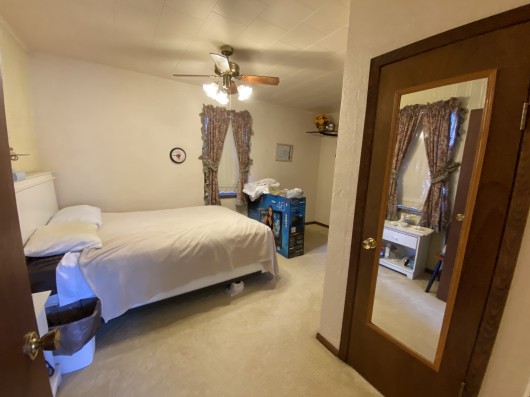 Master Bedroom from Family Room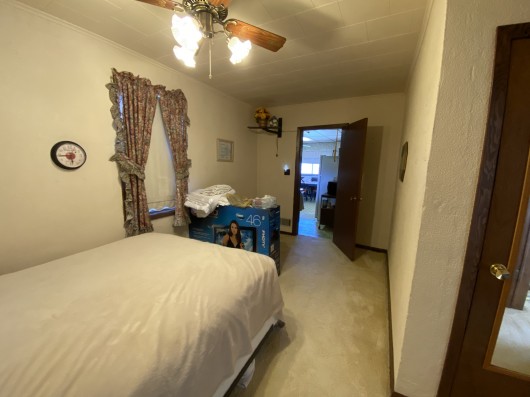 View of Master Bedroom to Kitchen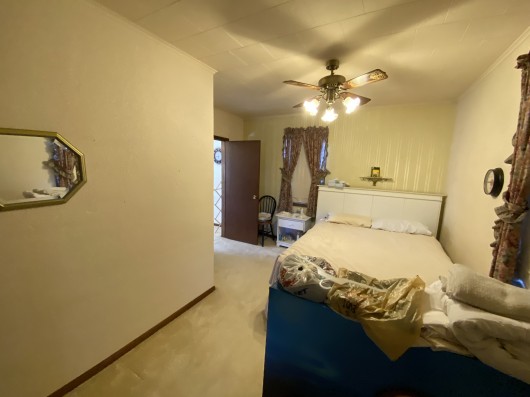 View of Master Bedroom to Family Room

Stairs to Upper Level off Living/Dining Room

View of Upper Landing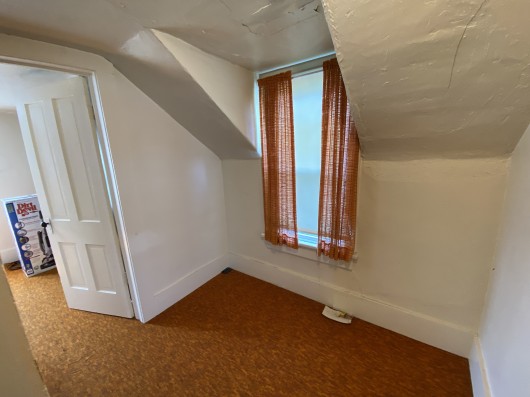 Second view of Upper Landing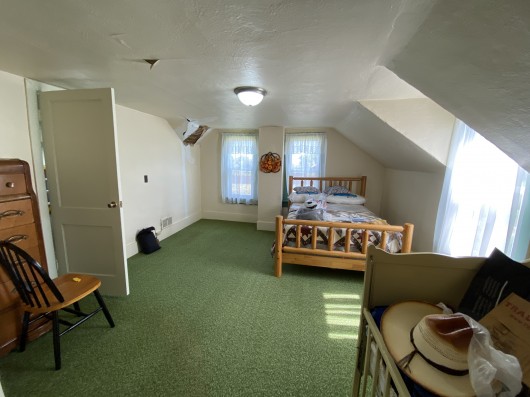 Upper Level Bedroom #2

Another view of Bedroom #2 on Upper Level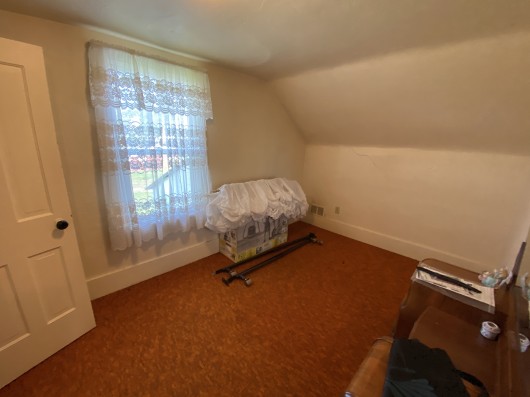 Upper Level Bedroom #3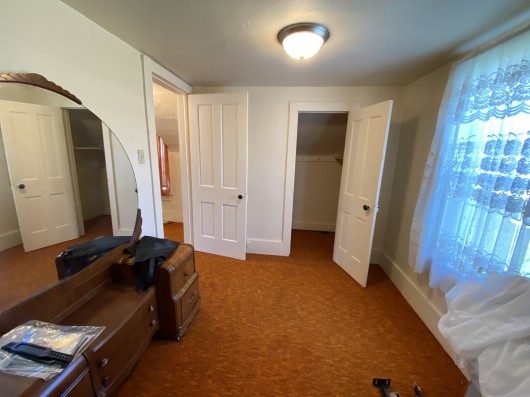 Another view of Bedroom #3 on Upper Level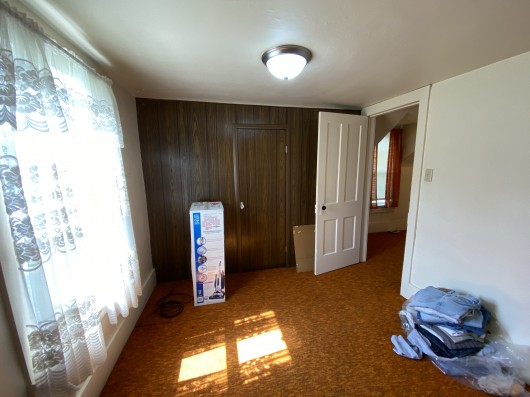 Upper Level Bedroom #4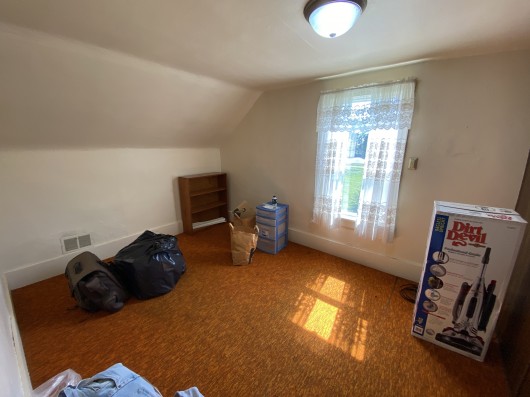 Second view of Bedroom #4 Upper Level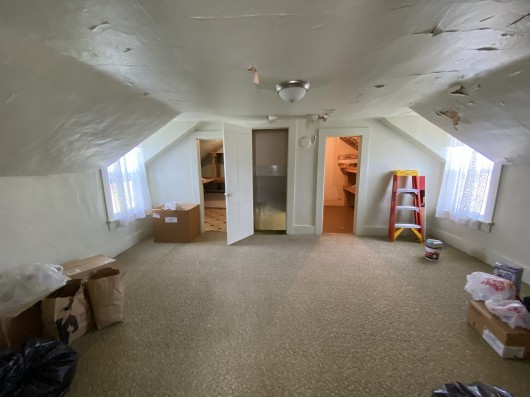 Bedroom #5 in Upper Level. Large w/2 Storage Closets & Back Service Stairs to Entry.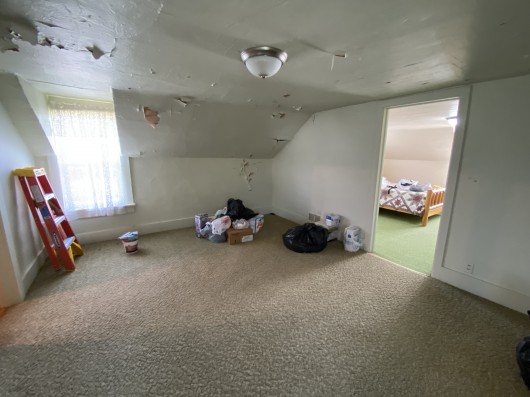 Second view of #5 Bedroom in Upper Level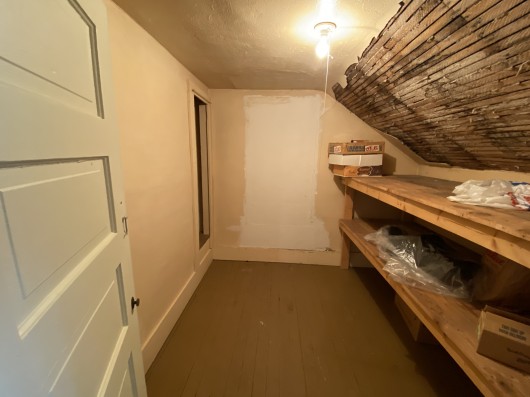 Walk-in Storage Closet on Right side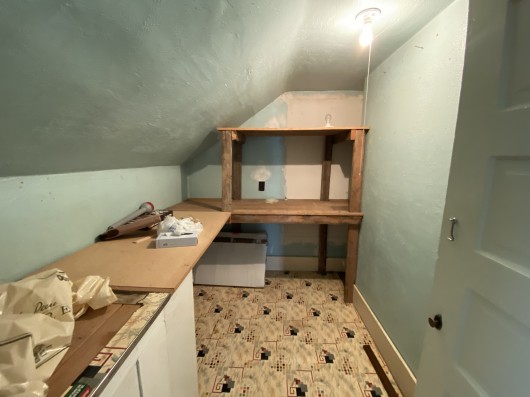 Walk-in Storage Closet on Left side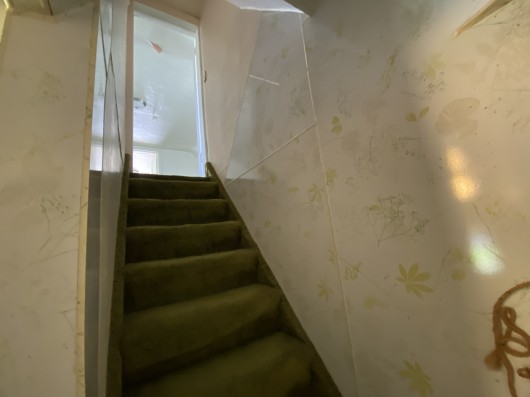 Back Service Stairs to Main Level Entrance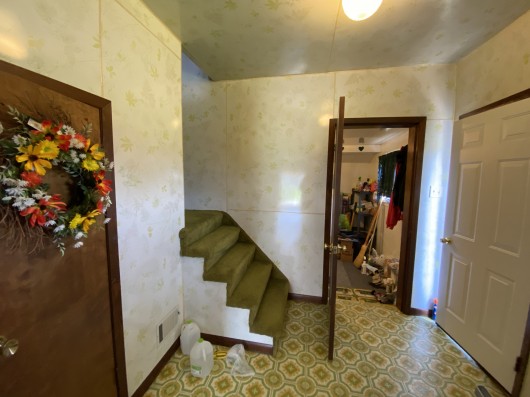 Back Stairs to Entry & Mudroom. Laundry/Bath thru door.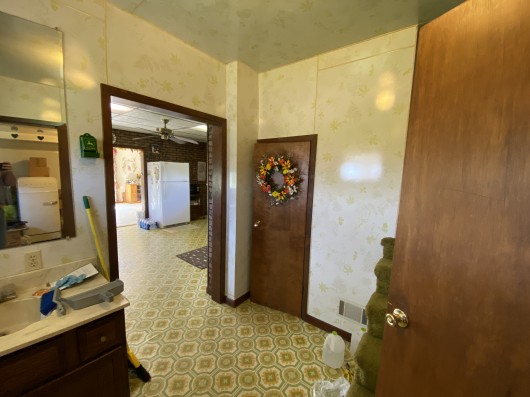 Mudroom in Entry off Kitchen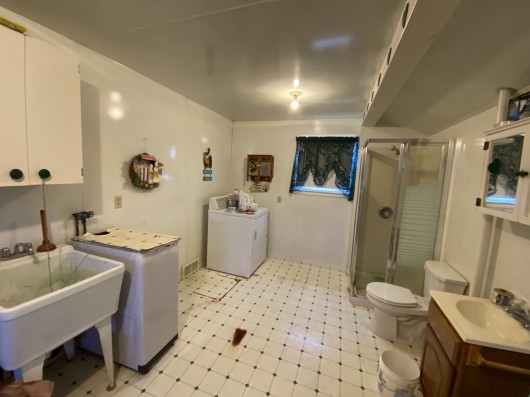 Laundry & Bathroom w/Shower on Main Level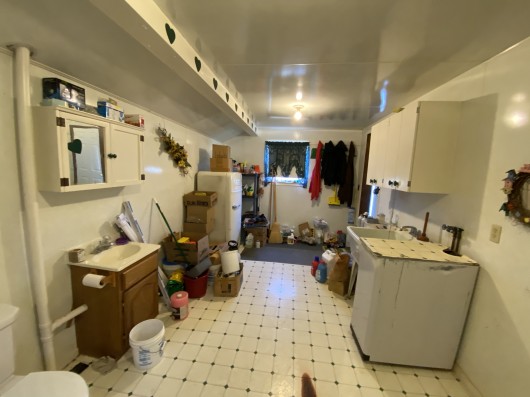 Second view of Laundry/Bath on Main Level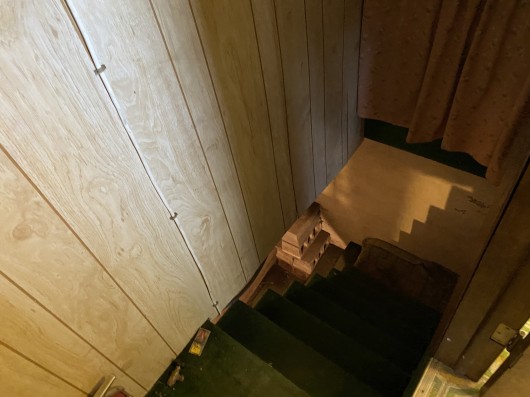 Stairway to Basement Level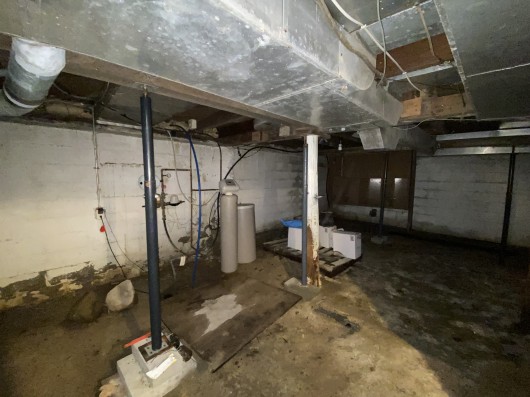 Water Softener System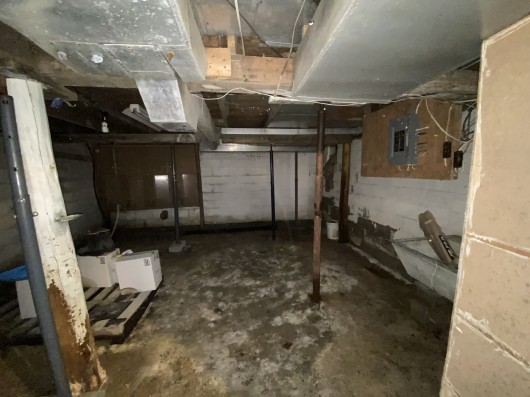 Electric Breaker Box on right wall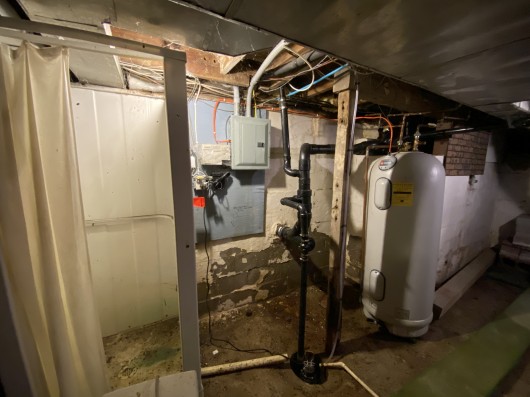 Hot Water Heater & Shower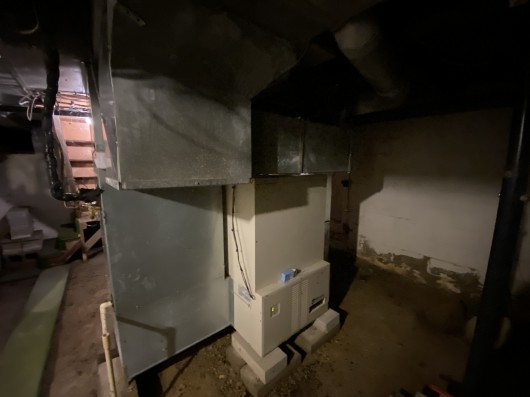 Newer Forced Air Furnace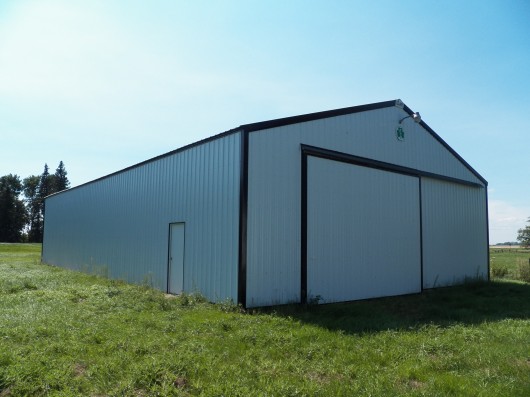 Machine Shed Exterior w/14' Sidewalls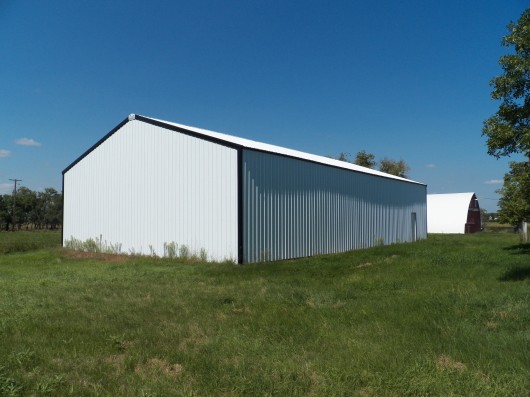 Second view of Machine Shed Exterior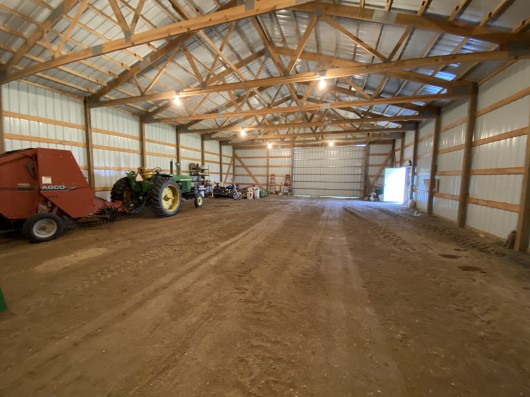 Machine Shed Interior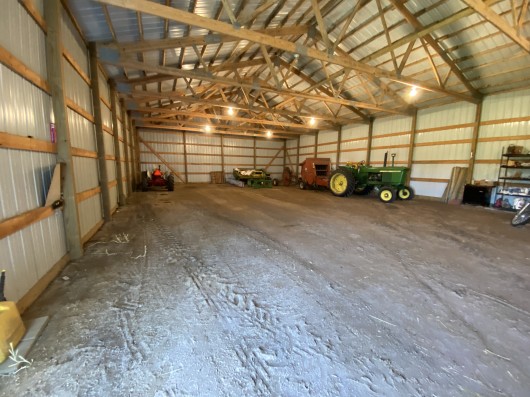 Second view of Machine Shed Interior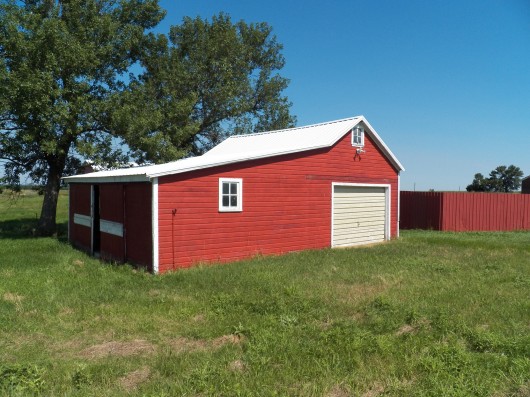 Garage Exterior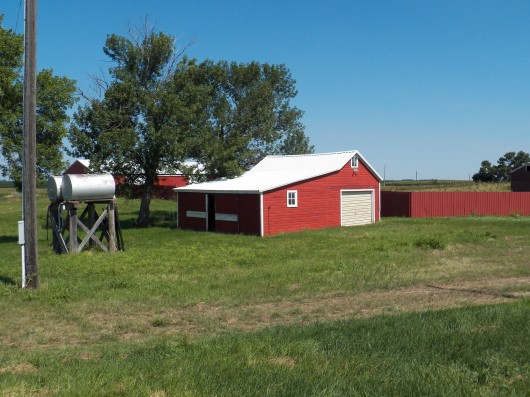 Garage and Fuel/Gas Tanks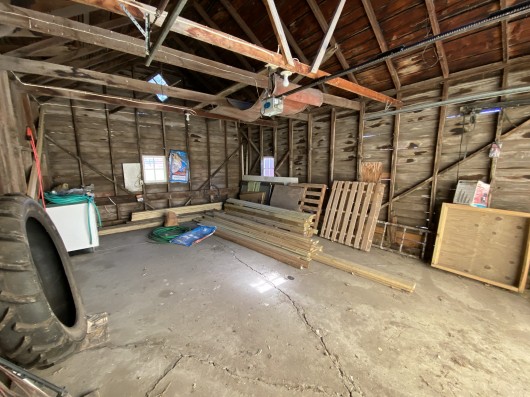 Garage Interior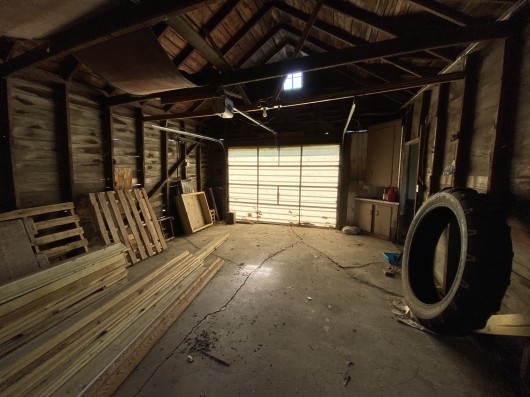 Second view of Garage Interior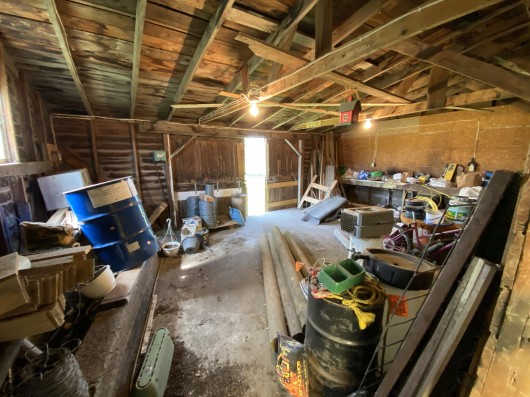 Garage Workshop Area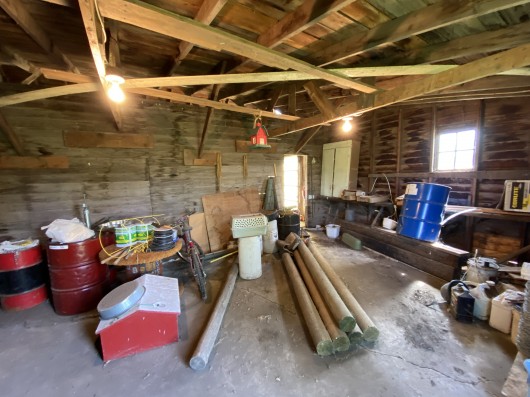 Another view of Workshop Area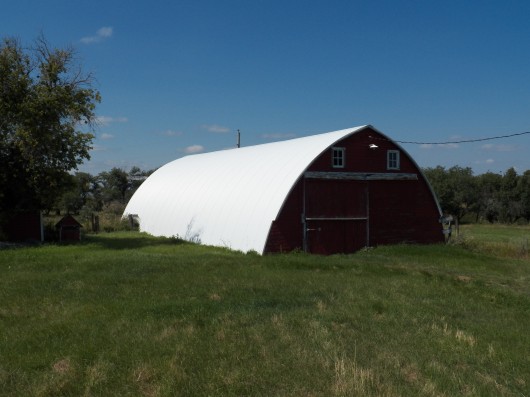 Quonset Exterior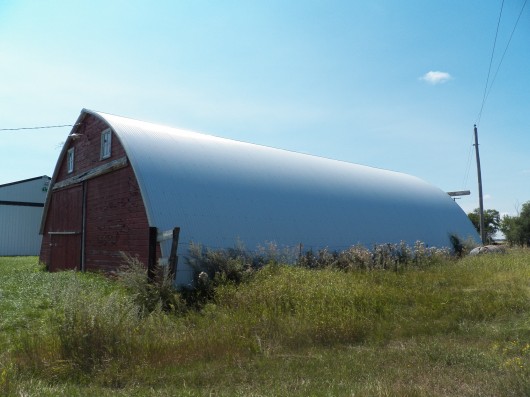 Quonset w/Metal Roof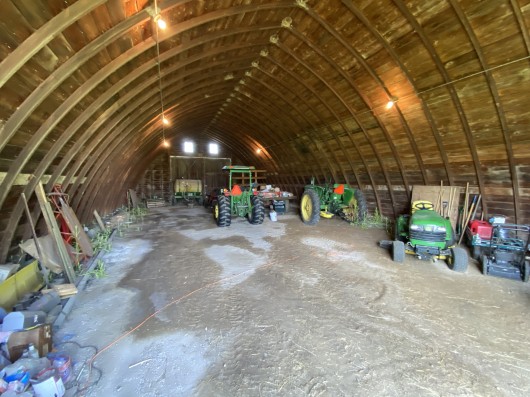 Quonset Interior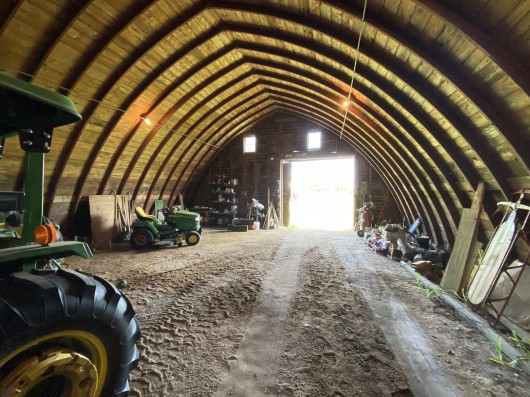 Second view of Quonset Interior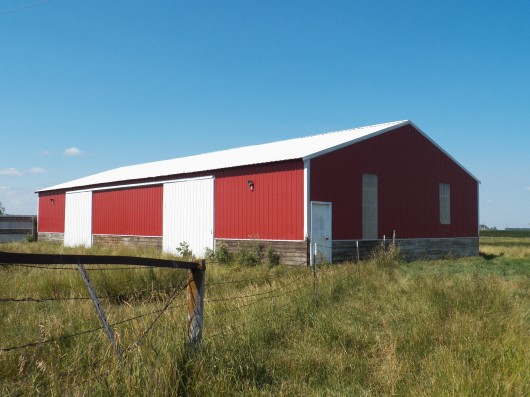 Pole Barn Exterior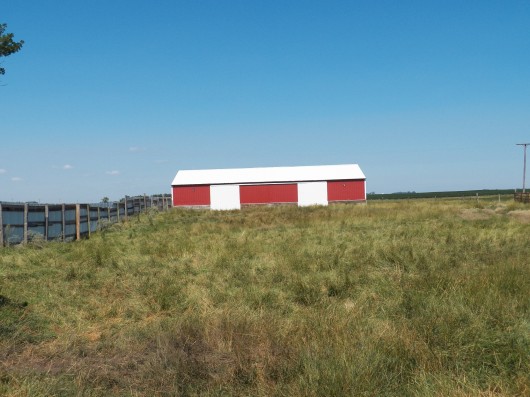 Pole Barn and Corral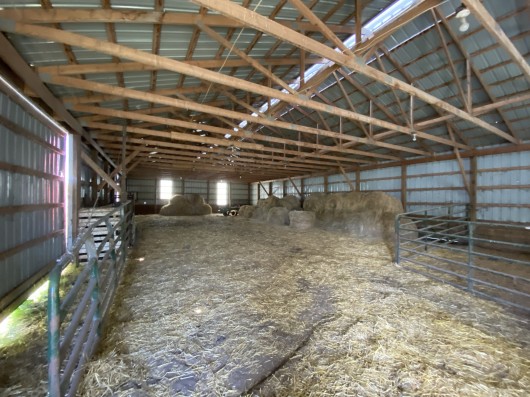 Pole Barn Interior. (Free standing panels belong to Renter.)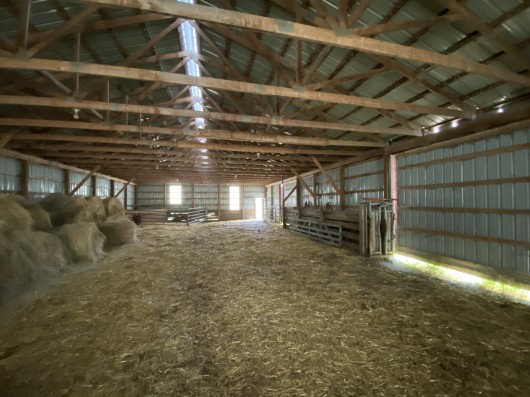 Second view of Pole Barn Interior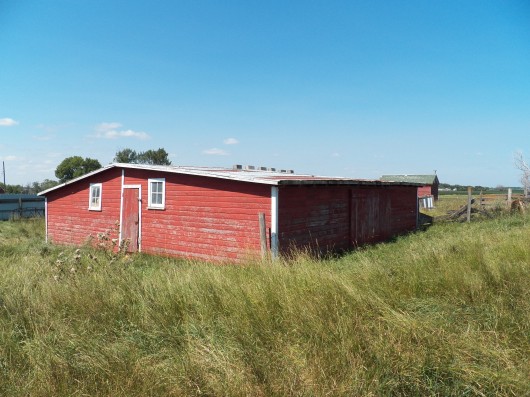 Cattle Shed Exterior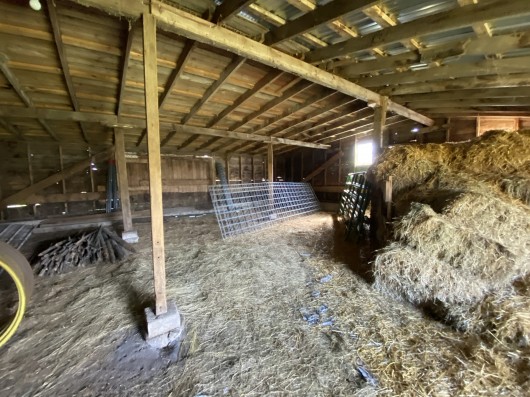 Cattle Shed Interior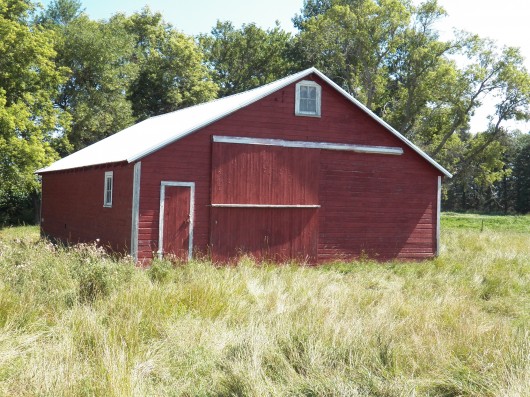 Storage Outbuilding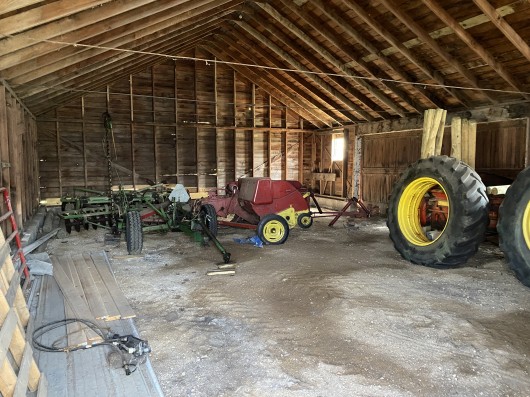 Storage Outbuilding Interior. (Hose & Float belong to Renter.)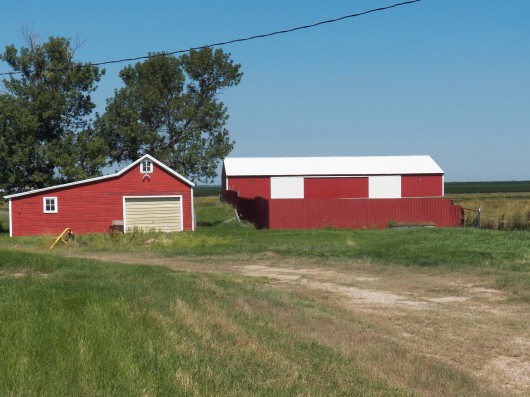 Garage, Pole Barn & Windbreak Fence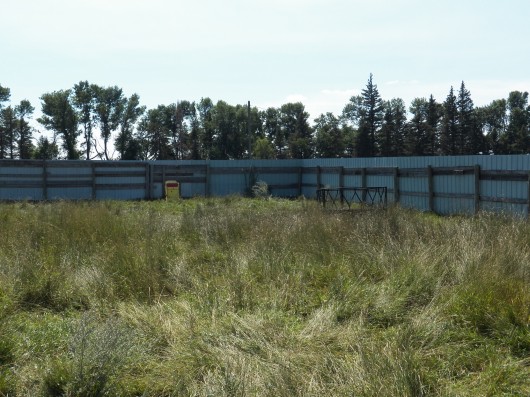 Windbreak Fence and Ritchie Waterer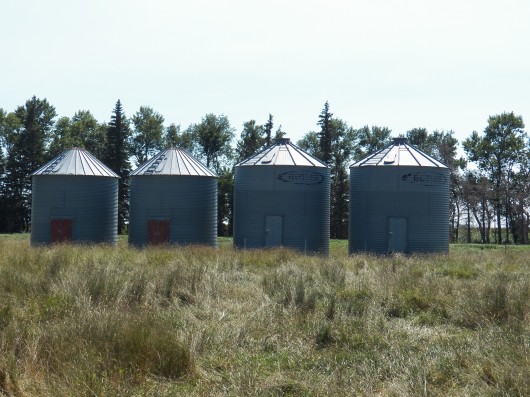 Grain Bins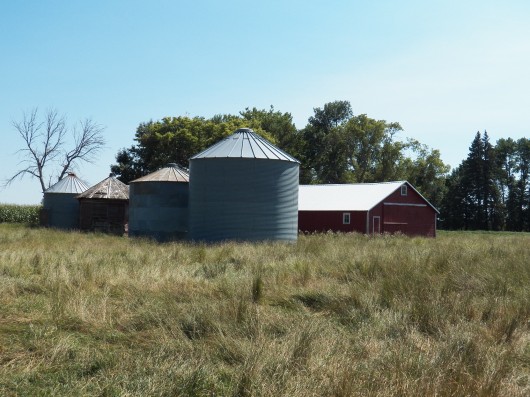 More Grain Bins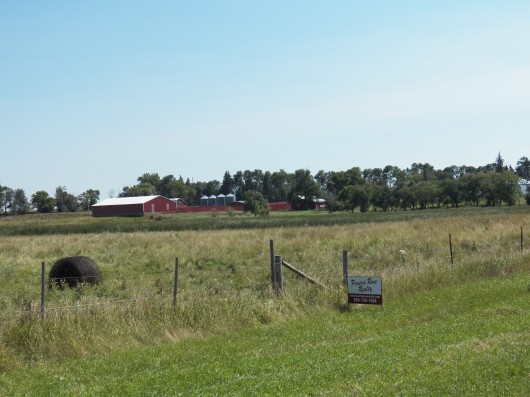 Good Fencing on Pasture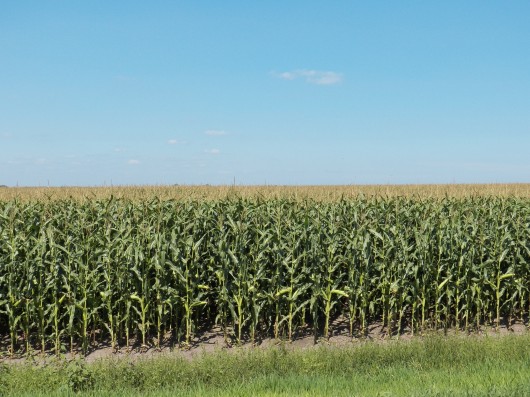 Corn Crop on Good Tilled Soil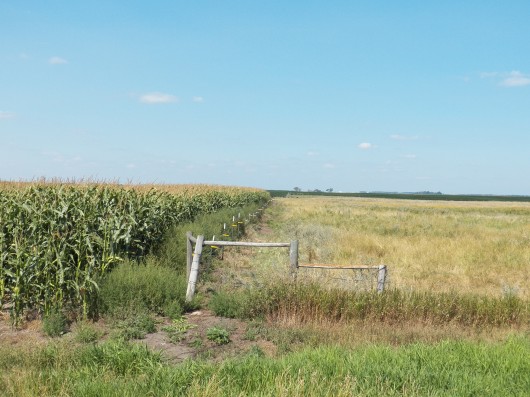 Fence on Pasture w/Electric Hot Wire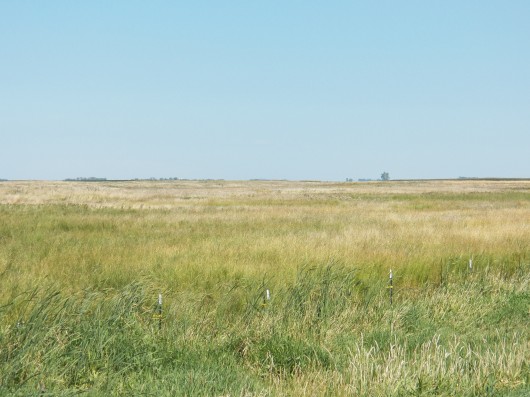 Good Stand of Grass in Pasture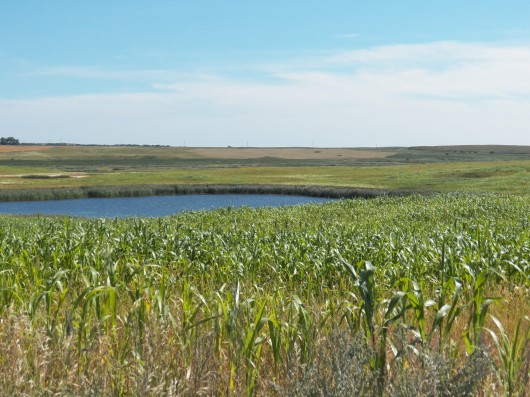 Creek Water still flowing in September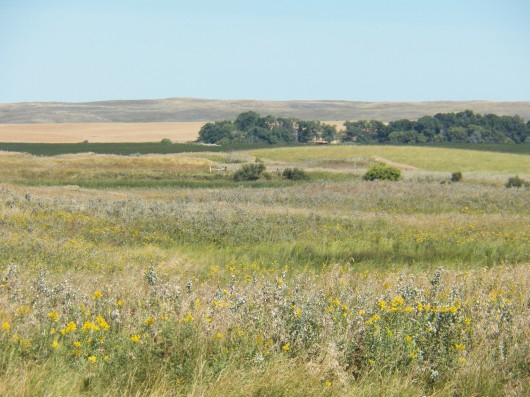 Scenic Area on Subject Property

Another view of Pasture on Subject Property
Soil Map & Legend for Subject Land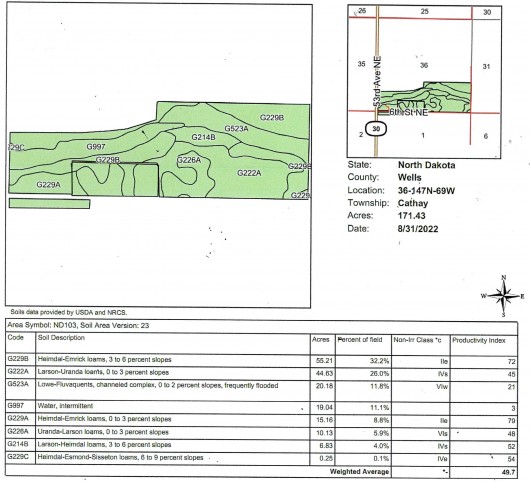 Hillshade Topography Map of Subject Land with Legend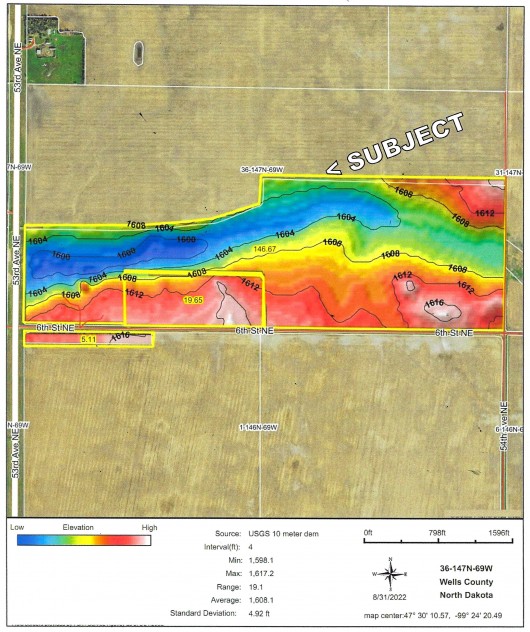 If you are interested in this property, please contact Prairie Rose Realty Inc. at landbroker@bektel.com or call 701-475-2784 or toll free 800-728-7558.
Prairie Rose Realty Inc. is representing the Sellers in this transaction. All information has been gathered from sources considered reliable, however cannot be guaranteed by Prairie Rose Realty Inc.