40 Ac Driscoll Farmstead For Sale
16101 - 418th Street NE, Driscoll, Clear Lake Twp., Burleigh Co. ND
Well Planned Livestock Operation with a 4 Bedroom Ranch Home w/Double Attached Garage and large Equine Bldg. or Shop with 16' side walls surrounded by dense Trees and Evergreens overlooking a Working Barn, Pole Barn and 2 Calving Barns with a well watered system including bunk lines, grain bins and add'l. Quonsets. Located on 40 Acres just N of I-94 approx 30 miles E of Bismarck, ND. Add'l Acreage Available. Seller's Asking $260,000.
*********************************
Legal Description: NW1/4 NW1/4 Section 2, Township 140 North, Range 75 West in Clear Lake Township, Burleigh County including all minerals currently owned, if any.
Location: From Bismarck, travel East on Interstate 94 approximately 30 miles to Driscoll Exit 190. Turn N on paved road which is 405th St. NE. Travel 6 miles to 136th Ave. NE. (The paved road turns to gravel after 4 miles.) The road curves to the west, but turn east on 136th Ave. NE for 1 mile, then turn N on 418th St. NE. Travel 2 miles to the NW corner of the property. The driveway to the house is marked by a Prairie Rose Realty sign.
Easements: There are NO USFW Grassland Easements, however there is a perpetual USFW Wetland Easement that does not interfere with livestock operating, but restricts draining, leveling, burning or filling of wetlands that will need to be honored by new owner.
Real Estate Taxes: There are no taxes at the Treasurer's office because this was part of a large operation.
Water Improvements:
The house has Rural Water Membership and a Well behind the house to the North.
170' deep Well with Submersible Pump located by the light pole by the SE Calf Barn that feeds water to the 2 barns, the fountain in the south corral, and the tank by the fence.
Outbuildings:
Large Shop or Equine Building by the House has 220V, Dirt Floor and 14'X16' OH Door w/Auto Elec Opener, Sliding 10' Door on East side and Walk-In Door on the South side.
Working Barn, Pole Barn, 2 Calving Barns, 2 Quonsets, Workshop and 5 Grain Bins. The Hopper Bottom Bins are sold. Free Standing Panels have been removed.
4 Bedroom Ranch House:
The Ranch-Style Home has Kitchen with Breakfast Bar and separate Dining Room with built-in Cabinets and Desk area. The large Living Room has a Nook for an Electric Fireplace. There are 2 nice sized Bedrooms on the Main Level, and a Full Bathroom, with Jet Tub.
The Lower Level has a large Recreation Room, and 2 more non-conforming Bedrooms, along with a Bonus Room. There is a 3/4 Bathroom with Shower, and a Laundry Room that includes a second Kitchen used as a Canning Kitchen. The House has Rural Water, Septic and Electric Baseboard Heat. The Double Attached Garage is Insulated with Automatic Openers and 1 has Auto Reverse. House looks to be in good condition and well maintained, but is being sold in "As Is" condition because we do not know the history.
All of the Windows on the main level were replaced by Leingang Windows with new vinyl combination screen/storm. Also all of the plumbing has been replaced with PVC pipes. The original well water was rusty, but the Rural Water is very nice according to previous owner.
NOTE: The Seller will consider selling add'l 40 acres at a revised price. The Seller has never lived on this property and has owned it for a short time. So the information provided is limited and considered reliable, but cannot be guaranteed. We are told everything is in working condition by previous owner. Property is shown by appointment only.
Seller's Asking: $260,000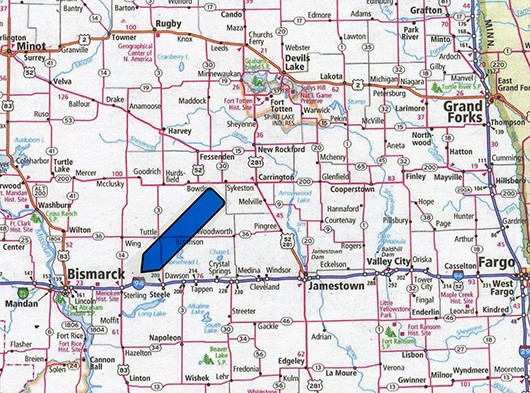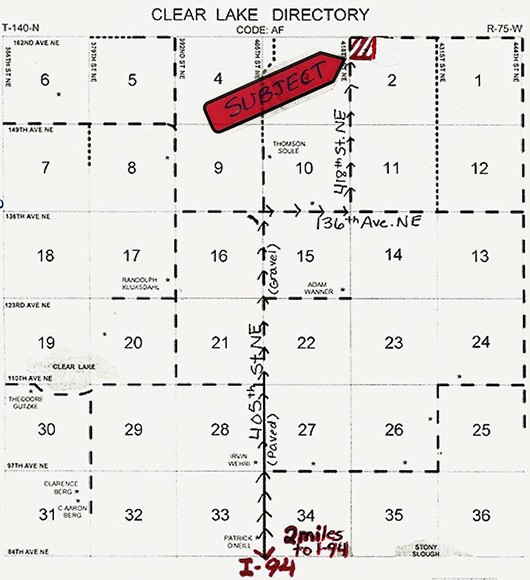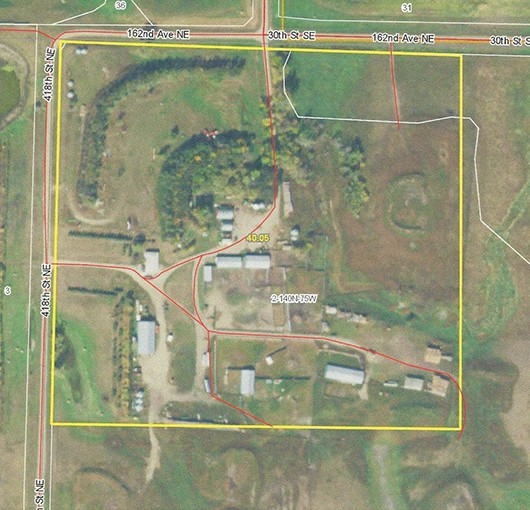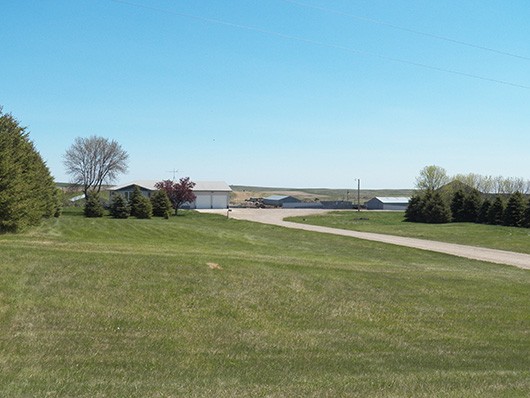 View of Farmstead from West Driveway to House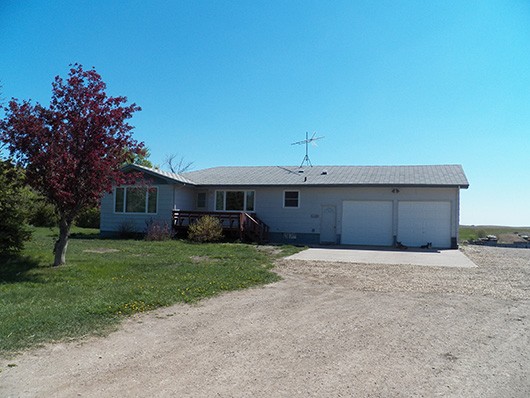 West side of House
CLICK HERE for a Photo Tour of Home's Interior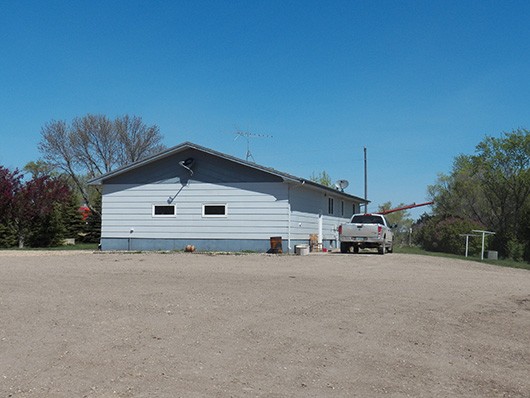 Southeast corner of House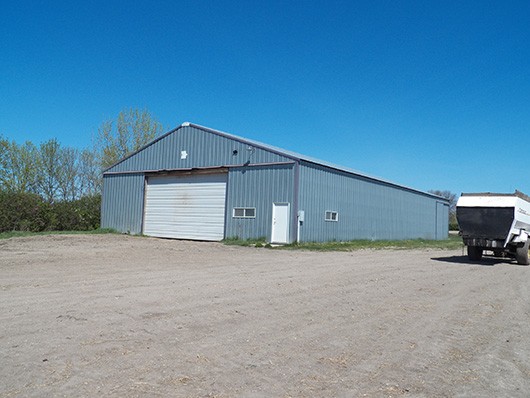 Nice Shop next to House tall and large enough for Equine Center.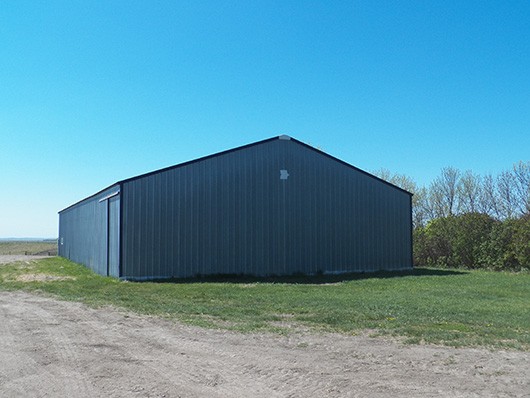 North side of Shop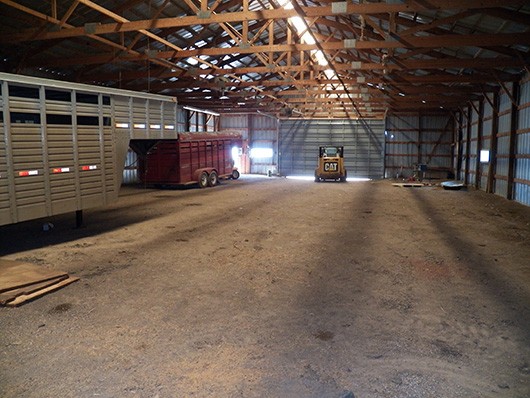 View of Interior of Equine/Shop Building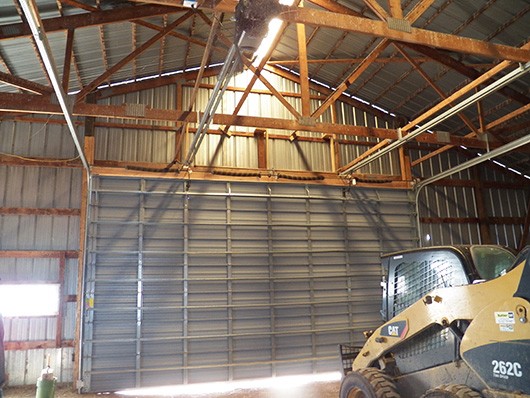 Electric 14X16 Overhead Door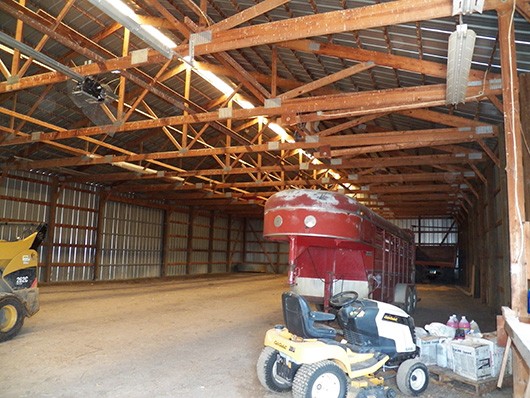 Second view of Equine/Shop Building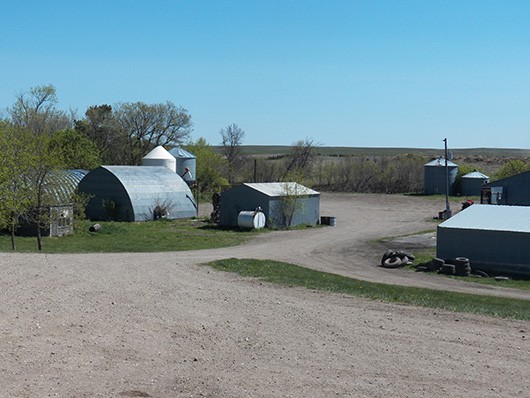 North Outbuildings. 2 Quonsets, Workshop. Hopper Bottom Bins excluded.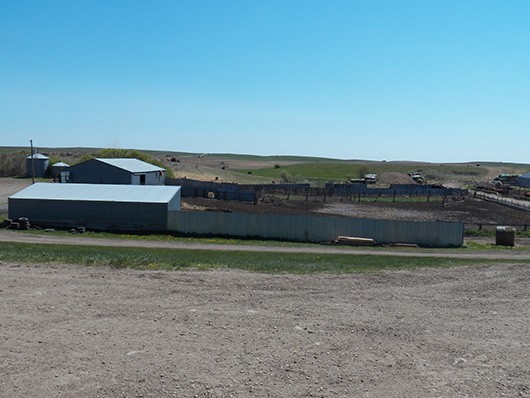 Looking E of House. Pole Barn and Working Barn.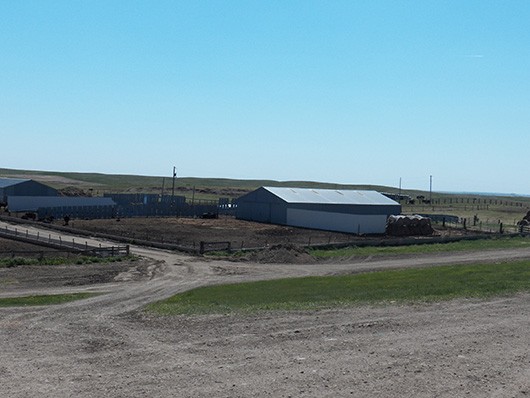 SE of House - 2 Calving Barns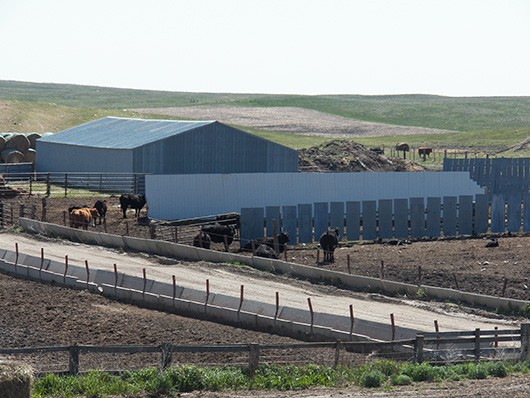 Corral System, Windbreak and Feed Bunks by Calving Barn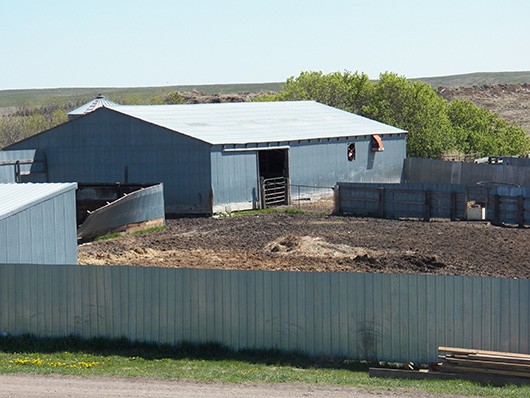 Working Barn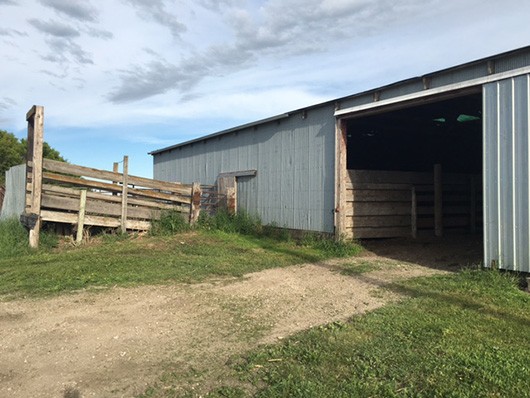 Loading Chute on Working Barn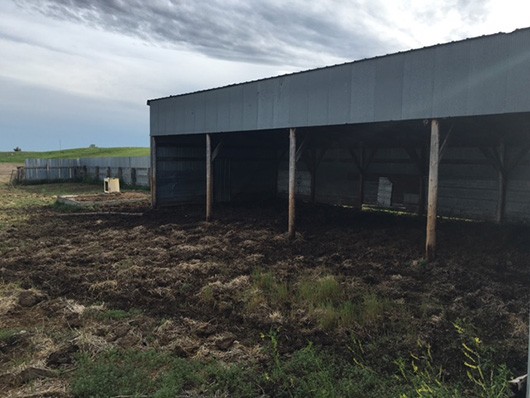 Pole Barn Interior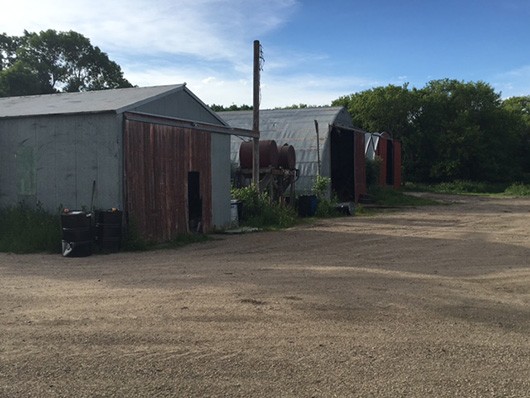 Row of Shops - Farm Style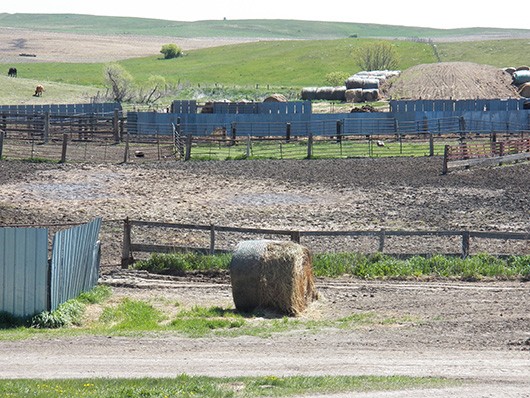 Corrals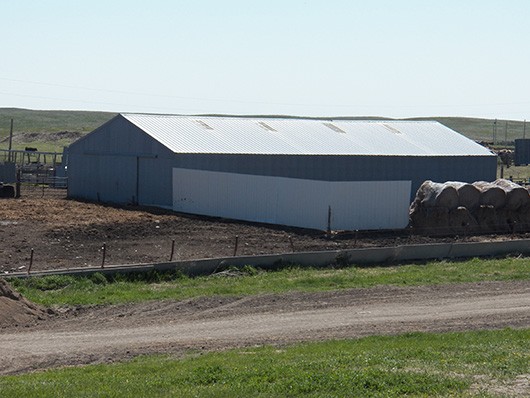 Calving Barn - 1 of 2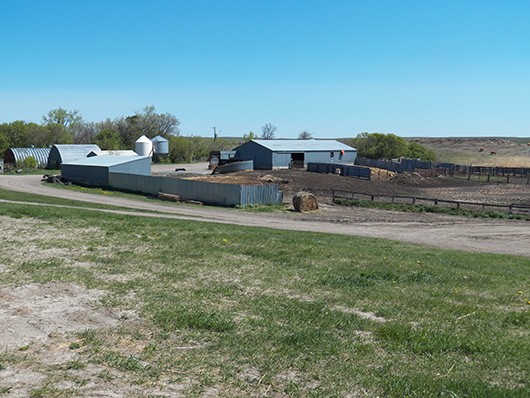 North Buildings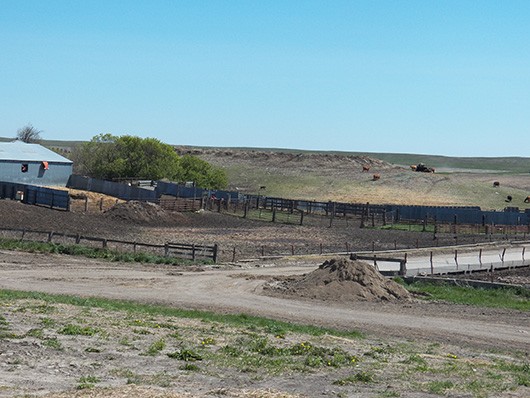 Corrals off Working Barn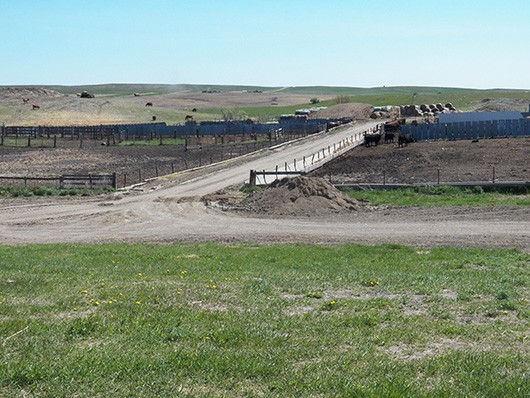 Access between Corrals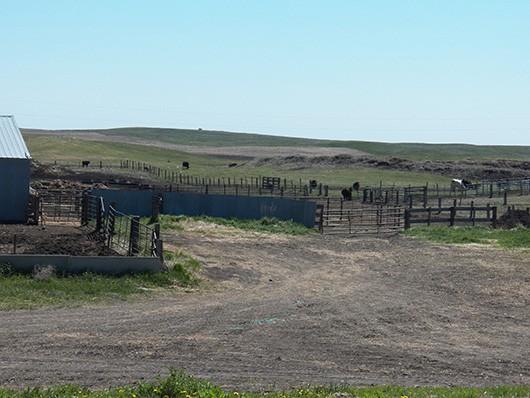 Corrals and Pasture S of Equine/Shop Building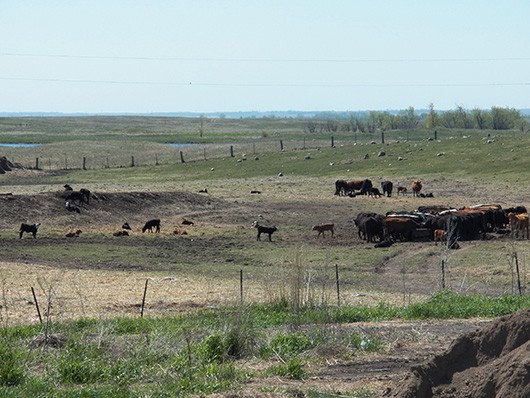 Pasture South of Buildings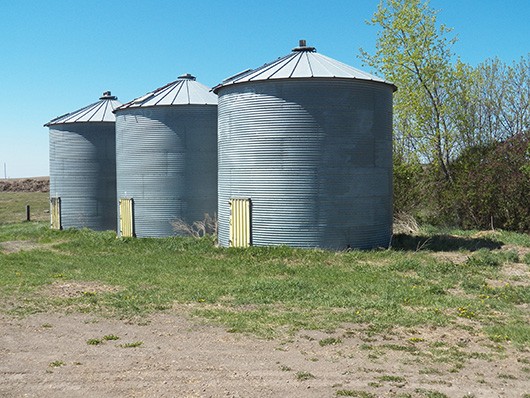 Grain Bins S of Equine/Shop Building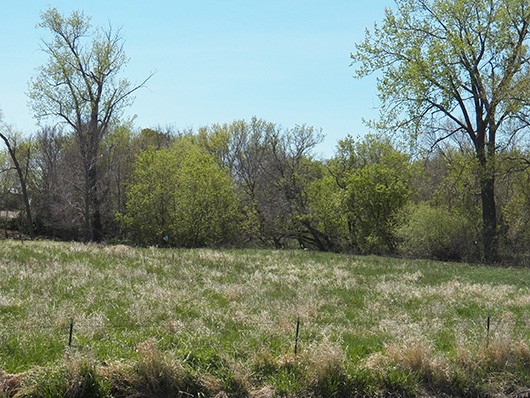 Trees on N side of Buildings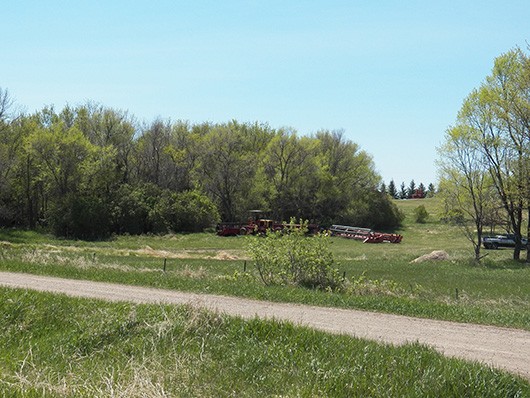 NW corner of Property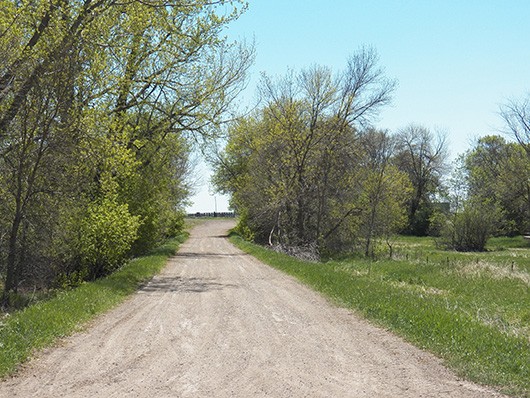 2nd Driveway to Outbuildings coming in from North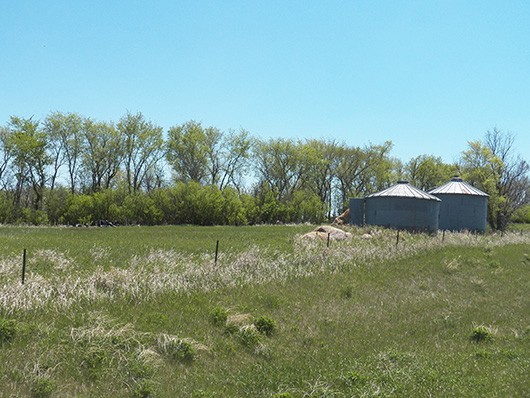 Inside Hay Yard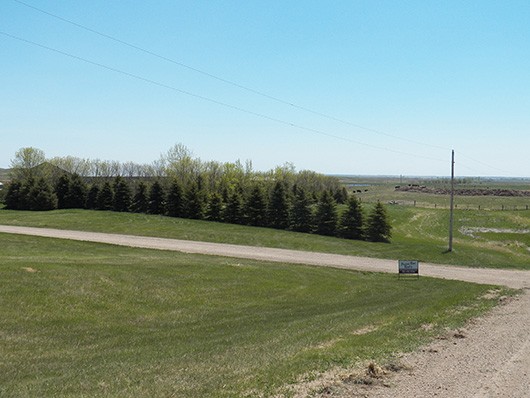 NW corner looking South on West side.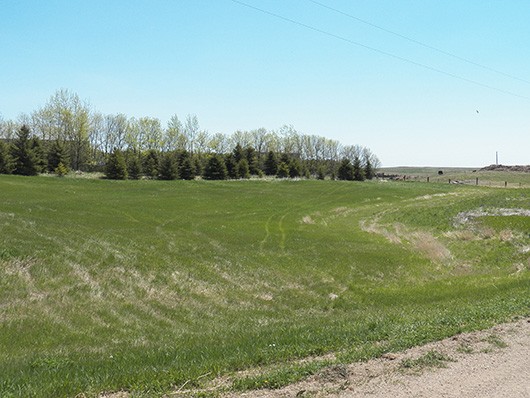 Grass area West of House and Equine/Shop Building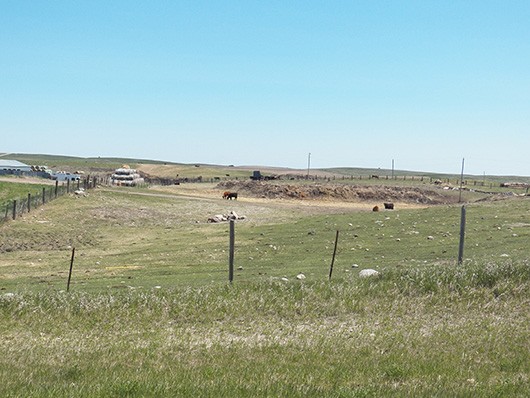 Pasture S of Buildings, view from West Road.
Aerial View of Corral System and Outbuildings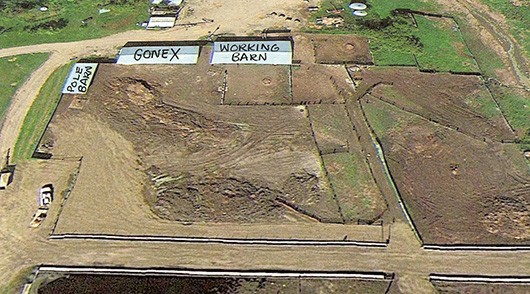 Working Barn, Pole Barn and Corrals - middle building is taken down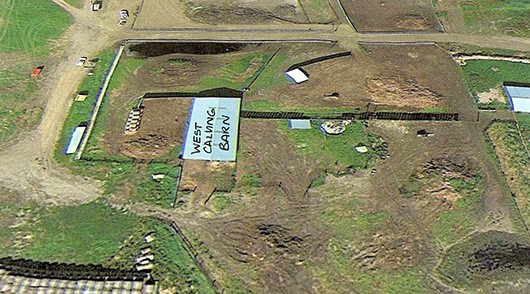 Aerial View of West side of Corrals with Calving Barn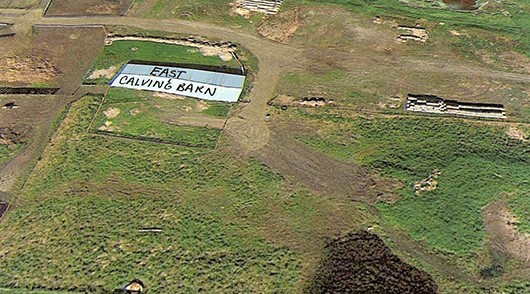 Aerial View of Corral and Pasture by East Calving Barn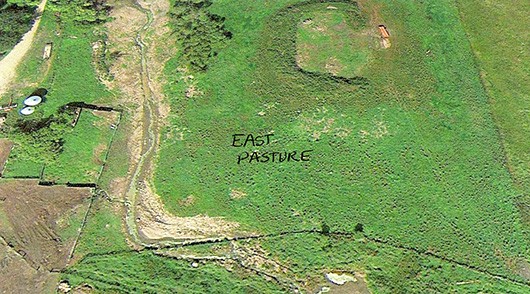 Aerial View of Pasture E of Buildings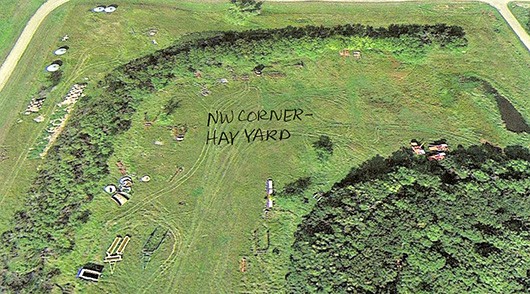 Aerial View of Hay Yard in NW corner of Property
Soil Map and Legend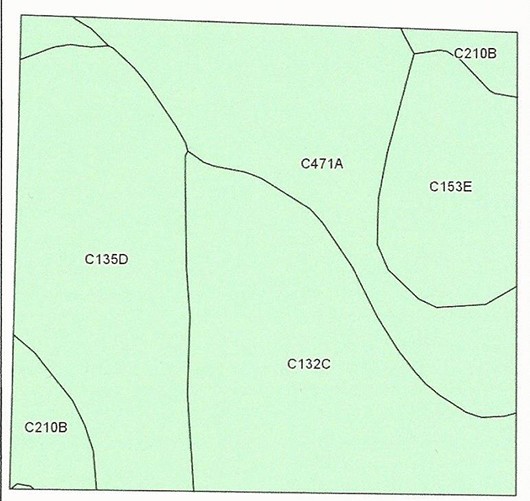 Topography Map of Subject Property Outlined in Black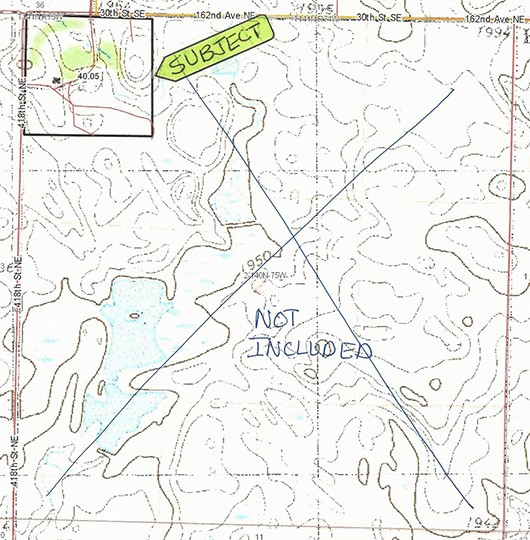 If you are interested in this property and would like to set up an appointment for a showing, or have questions, please contact Prairie Rose Realty at landbroker@bektel.com or call 701-475-2784 or toll free 800-728-7558.
Prairie Rose Realty Inc. is representing the Sellers in this transaction. All information has been gathered from sources considered reliable, however cannot be guaranteed by Prairie Rose Realty Inc.