80 Ac Grass Lake Farmland For Sale
Wilton, Burleigh County, North Dakota
Located in Grass Lake Township just off Hwy. 41 at the curve E of Wilton, ND, this 80 Acres of Cropland offers 75.85 Acres of tilled ground with predominantly Class II Williams-Bowbells loams and an overall average Productivity Index (PI) of 76.8. Excellent location and access with good land steward as a Renter. Seller asking: $184,000 or avg. $2,300/ac
*********************************
Legal Description: E1/2 NW1/4 Section 31, Township 143 North, Range 79 West, Grass Lake Township, Burleigh County including all minerals currently owned, except for 50% of the oil and gas minerals that will be reserved for Seller's lifetime and then restored back to the land.
Location: From Bismarck, ND travel N on Hwy. 83 to Wilton. Continue N to junction of Hwy. 83 and Hwy. 41 and turn W on Hwy. 41. Continue W across RR tracks to 26th St. NE where Hwy. 41 takes a sharp curve to the north. Continue W on gravel road at the curve for 1/2 mile to NW corner of subject property. (See Map)
Acreage Breakdown:
75.85 acres Tillable Cropland
Balance in lowland
Seller Asking $184,000. or avg. $2,300/ac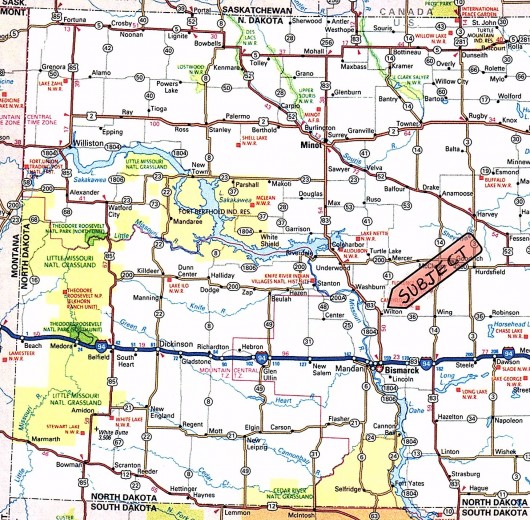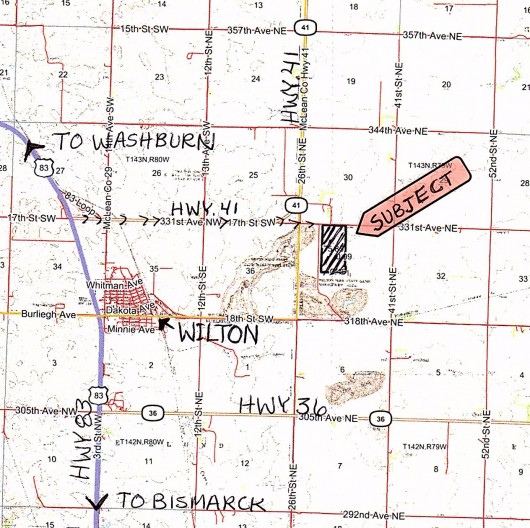 Aerial Map with Subject Property Outilined in Yellow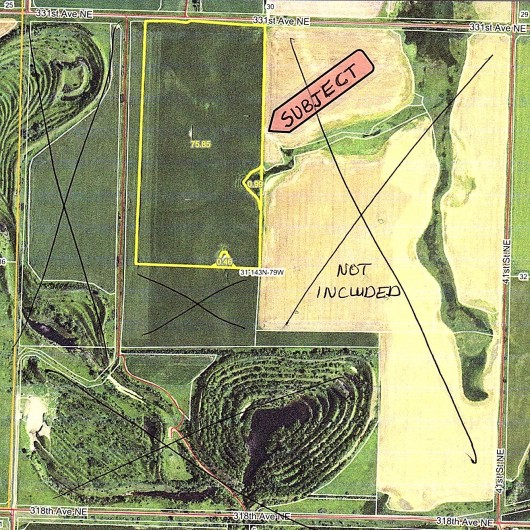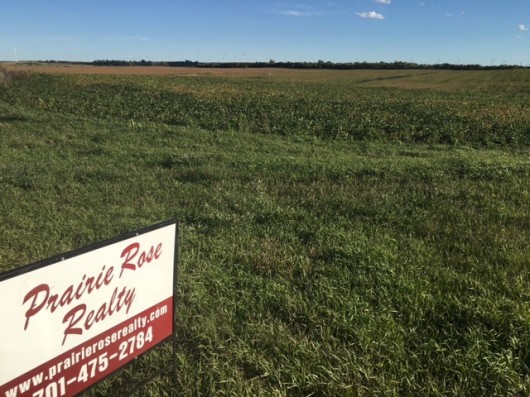 View from NW to SE of subject land.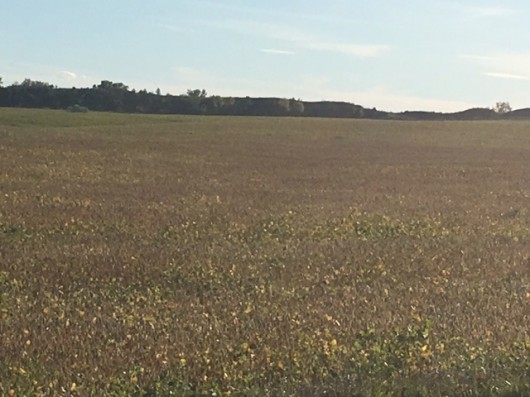 View from North to South of subject land.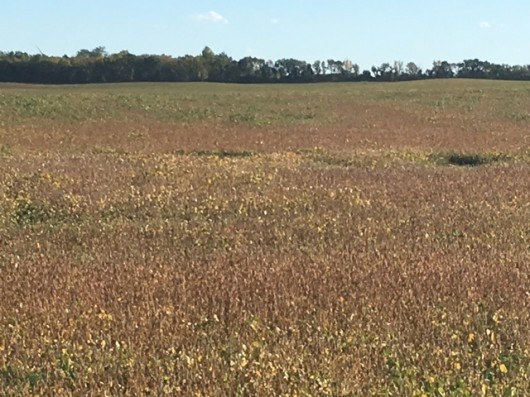 Looking NE to SW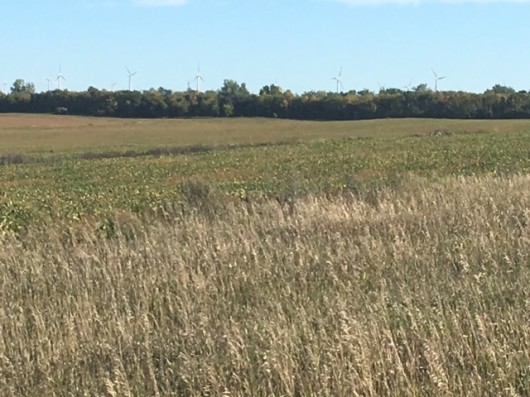 View from North to South of subject land.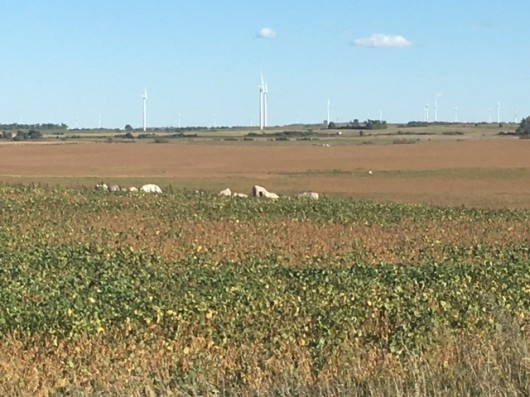 Looking Southeast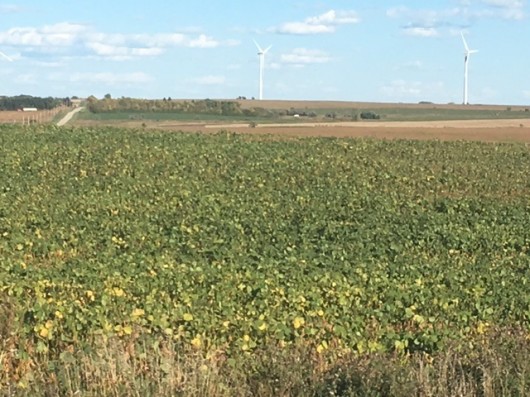 View from West to East across subject land.
Soil Map and Legend of Subject Land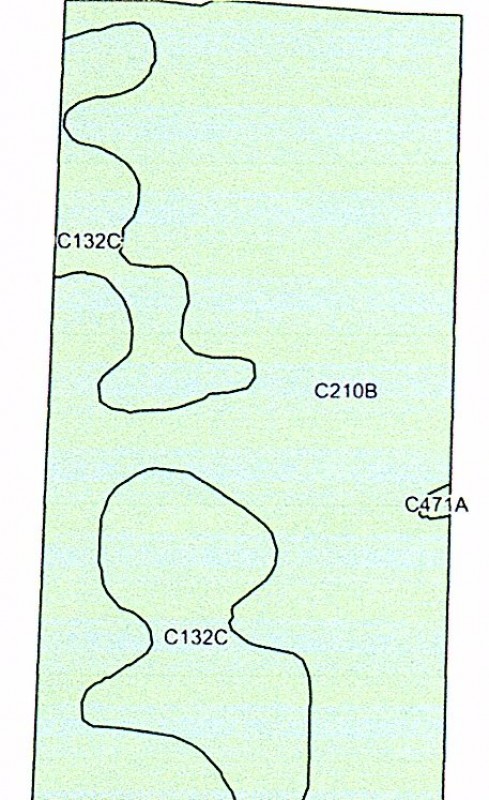 Topography Map of Subject Land Outlined in Black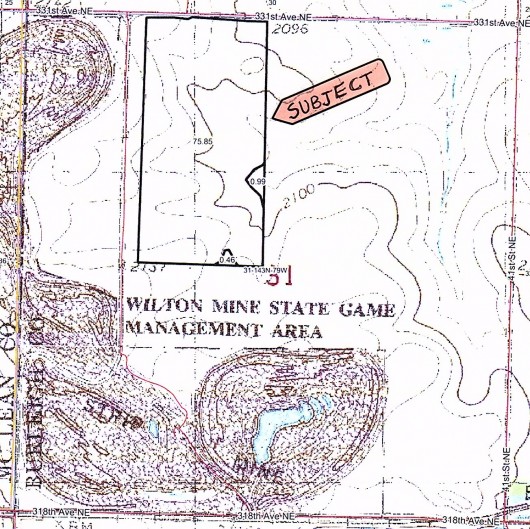 If you are interested in this property, please contact Prairie Rose Realty Inc. at landbroker@bektel.com or call 701-475-2784 or toll free 800-728-7558.
Prairie Rose Realty Inc. is representing the Sellers in this transaction. All information has been gathered from sources considered reliable, however cannot be guaranteed by Prairie Rose Realty Inc.